Making the situation better after a tragedy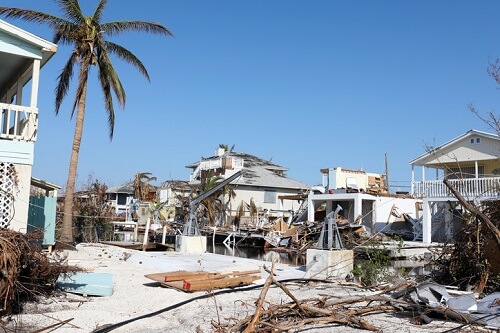 Ask the majority of insurance brokers and agents what they enjoy most about their profession and they will be quick to tell you that it is the satisfaction they feel when they help to make a client's life better following a difficult, or oftentimes tragic, situation – knowing that the program they designed was ultimately a difference-maker in the lives of their clients. Having a truly specialized program in place – one that goes above and beyond the standard – can be the difference between easing their woes and adding to them.
In the US over the last 12 months, insurance professionals have, sadly, had more than their fair share of tragedies to deal with – from the aftermath of Hurricanes Harvey, Irma and Maria, to the wildfires that tore through California, to the ever increasing and evolving threat of terrorism. The last thing that any insurance worker wants is to have his or her client reach out during these horrific situations and have to turn them away because the coverage they've been paying for simply isn't sufficient. They need to clearly understand what they're covered for ahead of time.
Looking for commitment from your program carrier? Learn how the right carrier partner can grow your program, or help you start a new one. Learn more by downloading the special report.
"Communication and doing what you tell the client you are going to do is vital," said Coleman Benvie, Property/Recovery Claims Supervisor with Great American Alternative Markets. "It is important to communicate throughout the claims process and to build a relationship with your insured so they trust you and feel like they are able to ask the appropriate questions."
However, while it is the role of the broker and agent to ensure that their clients are appropriately covered, what if the program they thought they could rely on is what ultimately lets them down?
Great American Alternative Markets, a member of Great American Insurance Group, strives to ensure that its brokers and agentsnever encounter that type of situation. A program is truly tested when the claim is presented and adjusted. The policy is a promise, the service of handling a claim is how that promise is honored. Building a program for a niche buyer requires that the carrier and the program manager have a deep understanding of the buyers' needs and unique exposures. That is tested at the time the claim occurs.
"What makes Great American different from other program carriers is the level of customer service we provide to our clients," added Coleman. "We strive to be the best in the industry, and we live by that commitment every day. We make sure our adjusters have the customer service skills they need, along with the expertise for the claims they are handling."
It's a process that has not gone unnoticed. Don Pickard, owner of TCP & Co, Inc., [a specialty photographers' insurance program] stated, "I have worked closely with Great American to improve the claim experience for the claimant and to identify areas where efficiency can make a significant impact on settlement and equipment replacement. Our clients cannot afford to be out of pocket when it comes to replacing their photography equipment. Time is money."
Most carriers deposit claims into a general claims department and push the claims into a "flow" adjuster with little or no complex specialty claims experience. It is only when the claim becomes more complicated over time that other more experienced claims personnel and lawyers get involved. At Great American Alternative Markets, however, claims are assigned to a dedicated team for a specialty program, based on expertise of the claims professionals in the context of the program. The assigned adjuster creates the initial relationship with the claimant or insured and continues that relationship throughout the claims process.
"We really work to build the relationship with the agents and the policyholder," said Tayler Marshall, Property/Recovery Claim Representative with Great American Alternative Markets. "With our Photography program, for example, we work with them on the next stages of replacing the damaged items, which I think is really unique. We aren't just paying for the claim, but actually stay involved to help the photographer get the new equipment that they need quickly so that they can continue with their business."
Not only does this process create a sense of comfort for the insured, it offers consistency of expertise from one claim to the next. The dedicated claims teams are assigned so that the program has consistency in approach, coverage analysis and communication, and these teams are aware of specialized claims procedures that are generally designed for programs. Of course, this doesn't mean that the role of the broker or agent is negated.
"When working with a policyholder, it is important to be clear on your expectations of the claim and what you need in order to complete the claims process," stressed Marshall. "Set the standard of coverages and gaps in the policy so the policyholder knows that up front. We are able to work with the agents on where we stand on the policy. The transparency is important when we are reviewing coverages with the insured."
Don Pickard, Owner of TCP & Co., Inc. continuously monitors claims and commented that "the results of our collaboration with Great American Alternative Markets on claim handling and settlement have been significant. We have seen turnaround on claims reduce from 30 days to 10 days and we are now tracking claim satisfaction on every transaction. It is around 98% and to me that is when a program demonstrates its real value to the insurance buyer."
If you want to find out more about Great American Alternative Markets and how it can benefit your brokerage or agency, reach out today at GreatAmericanCaptive.com.
Great American Insurance Group, 301 E. Fourth St., Cincinnati, OH 45202. Policies are underwritten by Great American Insurance Company, Great American Assurance Company, Great American Alliance Insurance Company, Great American Insurance Company of New York and Great American Spirit Insurance Company, authorized insurers in all 50 states and the D.C. The Great American Insurance Group eagle logo and the word marks Great American® and Great American Insurance Group® are registered service marks of Great American Insurance Company. © 2018 Great American Insurance Company. All rights reserved. 5591-ALT-2 (8/18)
To learn more about TCP & Co, Inc. specialty photographers insurance program, visit: www.tcpinsurance.com