Health clubs: The prospect just around the corner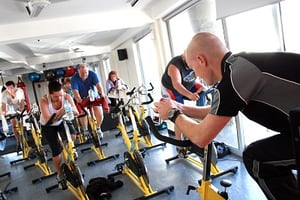 Main street agents in a small town may often feel hard-pressed to find new opportunities. What many don't realize, however, is that a fun and profitable opportunity could be waiting around the corner.
According to Cheryl Meyers, underwriting manager for K&K Insurance Group's Recreation Division, local health clubs and gyms are a great source of revenue for insurance agents and brokers. These clubs, on the rise following a downturn after the 2008 financial crisis, often go underinsured. As such, these accounts present an opportunity for a resourceful agent to point out potential coverage gaps and land a new client.
"There are 23,000 health clubs in the US and statistically, that would be an unlimited program for brokers and agents to send us submissions," Meyers said. "Small mom and pop accounts to large or multi-location risks—the opportunities are endless."
Potential coverage gaps
The best way for an agent to present him or herself as a valued partner is to approach their local health club and offer to review their coverage. In doing so, Meyers says many will find a few common risks that go uninsured.
One is the complications attendant with holding special events—particularly during the summer.
"Sometimes these are money-making events or community projects, but what's common is many carriers do not provide that coverage," Meyers said. "Our [recreation] program includes special event coverage, and protects against risks like participant liability, spectator liability, liquor liability or contractual liability concerns and needs."
Many health clubs may also be missing sexual abuse/molestation coverage. It's a sensitive subject, but babysitting facilities or summer camps present circumstances in which the need for this coverage becomes very vital.
"This is an important coverage, and not one that may always be embraced by other carriers," Meyers said.
Handling claims activity
Agents must also help health club owners identify their potential exposures. One that generates the most claims activity is slip-and-fall incidents in wet shower or locker room areas. Pools and saunas only increase exposure.
Equipment failure is also fairly common, and despite what some owners—and even agents—may think, health clubs can be liable for participant misuse.
"An incident involving a weight machine in which a participant added barbells on top of designated weight, for example, might topple over. That's based on the participant's misuse of the equipment," Meyers explained. "However, the venue may be liable if they were aware of what the participant was doing and didn't say or do anything to prevent it. It's almost like a passive agreement."
Agents aware of these exposures as well as how different jurisdictions handle these types of claims will be best positioned to land and maintain health club accounts.
Revisiting policies
Of course, one of the most crucial aspects of keeping a client is ensuring their continued coverage as the nature of the business develops.
"An agent should be available to their client before every renewal to talk about changes the client may have forgotten about during the year and to make sure that there are no additional issues that would need to be contemplated," Meyers said. "Each time an insured changes their exposures, services, and activities, or transacts a contract with another party, adds locations, autos, or operations, those would be touch points between the insured and their agent throughout the policy term to ensure appropriate coverage is in place."