Agents can improve customer service with under-utilized real time technology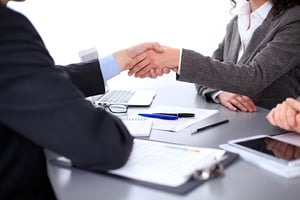 It improves customer service, saves insurance agents an average of 53 minutes a day and works within existing software - but surprisingly few agents are taking advantage of it.
Real-time technology automates data exchange between insurance agencies and their carrier partners, providing instantaneous lookup and retrieval of data through agency management systems and comparative raters. In a single workflow, real-time allows agents to quote, inquire on billing and claim information, submit a First Notice of Loss, obtain loss runs and provide well-rounded, timely customer service.
Campaigns to support the use of real-time technology in insurance agencies have been in place for nearly a decade, but proponents say widespread adoption has been tough to achieve.
In fact, while 40% of agents reported disjointed workflows as their biggest automation challenge, only 6% and 16% are using real-time tools to quote new commercial and personal lines policies, respectively, according to an August survey from Insurance Digital Revolution. There is also room for improvement in the number of agencies using real-time to make policy, billing and claims inquiries directly from their management systems.
That means a number of agents are manually reentering data when they move from agency management systems to carrier portals, causing time lags and inefficient workflows.
"Promoting real-time adoption has been tricky and challenging," said Thad Bauer, vice president and general manager of IVANS Insurance Solutions. "You have some agents who are incredibly passionate about it, but you also have those who have a real disbelief in what it can do. They've been performing these processes in the same way for 40 years, and getting over the hump of 'if it ain't broke, don't fix it' can be hard."
Once that communication has been made, however, agencies are enthusiastic about real-time capabilities.
Among the most efficacious tools is real-time comparative rating.
Advanced software enables agents to provide the accurate, nearly instantaneous quotes their consumers demand. By sending data stored in the agency management system to multiple insurers simultaneously, real-time comparative rating cuts the need to visit individual insurer websites.
That makes a huge difference to independent agents, who are often pressed for time yet anxious to demonstrate their core value to clients, says Melanie Wood, agency automation specialist with Columbia Insurance Group.
"Our agents are thrilled with IVANS real-time," said Wood, who regularly offers webinars illustrating real-time commercial rating. "They tell us it's fast, efficient and working."
Other real-time tools allow agents to pull key information on policy billing or claims from their agency management system without having to log in to a separate portal or make a phone call.
"That's huge because when something traumatic happens, consumers want all the relevant information right away," said Bauer. "As an independent agent, the value of real-time is the ability to provide quality service in that way."
All told, real-time saves agencies an average 53 minutes per day per employee. That leaves more time for sales and service, a benefit cited by four in 10 agents using the technology, according to the Get Real Time campaign.
That's key as the expectations of insurance consumers continue to change, says Michael Howe, senior vice president of product management with Applied Systems.
"It doesn't take rocket science to see that a profound shift in consumer preference is taking place. Your clients want fast, accurate results just like they can get in shopping for auto insurance online," Howe said. "They don't want to get stuck working with agents that use old, clunky systems. Real-time is something our industry has to have and has to do."