Not digitally connected with your insurer? You're falling behind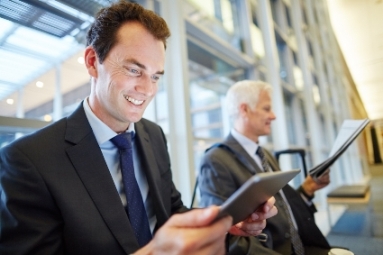 It's no secret that the technological revolution has created a very different kind of insurance consumer. More than two-thirds of banks already offer tech-based tools to their customers, and digital interactions within the financial services industry as a whole are expected to grow 46% through 2020, according to KPMG.
As the commercial digital culture accelerates, expectations of immediate access to everything from policy quotes to billing information demands higher performance from independent agencies. A key part of meeting that goal is ensuring an agency's connectivity with their carrier partners is up to snuff, says Michael Howe, senior vice president of product management with Applied Systems.
"Insurer connectivity is singled out time and time again by agencies as the most important area in which they would like to see improvement," Howe told
Insurance Business America
. "Agencies would like to know how they can work better with carriers to drive more business, improve productivity and smooth the gears of how information is exchanged at a technical level."
These insights, gleaned from the software developer's periodic internal surveys, suggest independent agents are on the right track. Insurer connectivity, which refers to the ability to exchange information between insurer systems and agency management systems, can greatly improve an agency's core value proposition.
What agencies may not be aware of is the number of opportunities available for improving insurer connectivity. Howe outlines three key areas: download, real time and market search tools.
More than 1.8 million potential download connections exist between insurers and agencies, according to IVANS Insurance Solutions. While agencies have been improving in their use of download – with an increase in transactions of 27% since 2012 – there is still serious room for improvement. Nearly 60% of connections are still not activated, meaning agents are not receiving all available data from their carrier partners.
Real time, while an ongoing industry initiative, could also improve operations. Agents who use the technology say they save an average 53 minutes per employee per day, according to the Real Time Campaign.
And the emerging set of market search tools, which enable agencies to more efficiently source risk, is cutting back on the 60% of commercial appetite submissions that are declined by insurers.
By adopting these new technologies, agencies can improve relationships with their carrier partners, increase internal productivity, grow their business, and solidify already strong relationships with personal and commercial customers.
Shunning the digital revolution, however, could bring consequences.
"You will always need someone to help you make smart choices in the complicated world of insurance, so the core value proposition offered by agencies will continue to exist," Howe said. "But, if agencies don't adapt and evolve with time, customers will go somewhere else."
Join
Insurance Business America
this week as we dive deeper into the topics of insurer connectivity, download, real time and market search technology.