Gen Z and millennials "not responsible" for nuclear verdict uptick | Insurance Business America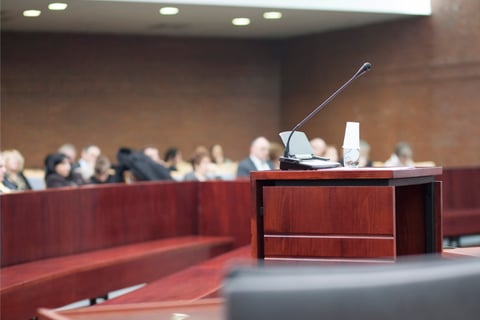 Nuclear verdicts may be a pressing matter for the insurance industry, but research suggests that younger generations on juries are not to blame for a reported uptick.
This was the message from Courtroom Sciences litigation consultant Lorie Sicafuse, who spoke during an AM Best webinar.
Generation Z (Gen Z – typically used to refer to people born from the mid or late 1990s onwards) and millennials (typically referring to those born from the early 1980s until the mid-1990s) may be an "easy target" for anyone looking to lay blame for perceived nuclear jury verdict increases, but they are not responsible, according to Sicafuse.
"They're not responsible for this supposedly dramatic increase in nuclear verdicts," Sicafuse said.
"That's not to say that they don't have some characteristics that can contribute to a pro-plaintiff verdict or a higher damages verdict, but in terms of the research that we have conducted […] the data shows that there's no significant difference in the verdict preferences or verdict orientation of jurors across generations, and there's no really strong significant difference in the amount of damages that they award now."
Read more: Social inflation – The ultimate pain point of US liability insurance
Courtroom Sciences collects data from mock trials, it conducts around 100 of these a year, and actual trials. This includes information on generational attributes, personality characteristics, verdicts and damages awards.
Data on Gen Z as jurors – of which there currently is not a "tonne", according to Sicafuse – continues to be collected.
However, the research so far shows that "they're not responsible [and] there's no significant differences in the amount of damages they award compared to their counterparts," Sicafuse said.
It would be "unwise to point the finger" at young jurors on nuclear verdicts, she said, with generational grouping "a very small factor in that, if a significant factor at all".
Nuclear verdicts are awards of $10 million or more. Seen as a scourge by insurers, there have been multiple initiatives from within the insurance industry to raise awareness of the impact of these in recent years, including from the American Property and Casualty Association and the Reinsurance Association of America.
Read more: The impact of social inflation on commercial liability claims
Younger generations are not responsible for a nuclear verdict increase, but there are some differences between them and their older peers.
One area that younger jurors approach differently is how they see authority figures. They tend to "expect more" from them, Sicafuse said.
It is not just government officials that younger jurors might have high expectations of, but also people like CEOs, construction site superintendents, or even someone in a role that "doesn't sound that authoritative".
"In older generations, a lot of times [if there is] someone in authority you automatically respect them," Sicafuse said.
"For these younger generations, respect of authority figures really has to be earned."
There are also differences between how people of different ages might view the corporate world, though this gap may be less pronounced than often assumed.
Read more: How can the insurance industry appeal to Gen Z?
A 2019 Gallup survey found that just 44% of those aged 18 to 29 felt positively about big business, with this rising to 47% in 2021.
Conversely, positivity fell among all other age groups over the two years, with over 65s seeing a drop of more than 10 percentage points, from 55% to 44%.
Those aged 30 to 49 reported a dip from 51% to 46%, while positivity towards big business among those aged 50 to 64 fell from 56% to 48%.
"Millennials, especially younger millennials and members of Generation Z, they do have stronger anti corporate attitudes than Gen Xers and baby boomers," Sicafuse said.
"Is it a huge difference? It's not a huge difference – it's a significant difference, but it's a small difference, so we're talking a few percentage points."
Generation X (the cohort before millennials, typically comprised of those born between 1965 and 1980) also might be "naturally kind of distrustful of corporations", according to Sicafuse, with factors such as experience of recessions a likely driver of this.
"We have generally a healthy distrust of corporations, but we don't necessarily expect corporations to go above and beyond to the extent that millennial and Gen Z jurors do," Sicafuse said.