Holmes Murphy gives back big for its 90th anniversary | Insurance Business America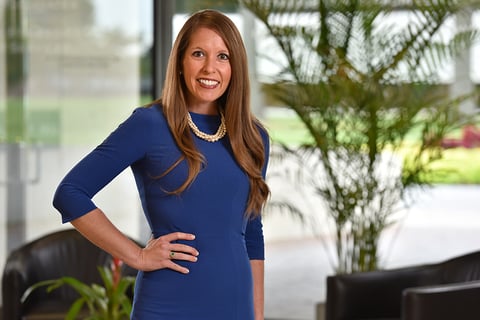 2022 has been a banner year for Holmes Murphy & Associates. The Iowa-based independent insurance brokerage celebrated its 90th anniversary by giving back big.
Twenty-seven charitable organizations across the US are receiving $100,000 in philanthropic contributions through the Holmes Murphy Foundation's community footprints program. The beneficiaries include Child Bridge Montana, Gems of Hope, Project C.U.R.E., New Friends New Life, Food Bank of the Heartland, and The Children's Place, to name a few.
They were chosen through a nomination process where each Holmes Murphy office allowed employees to select charitable groups that they believe deserve financial support and engagement.
"It's less about the corporate office directing the funds, and more about empowering our employees to nominate non-profits in their communities," said Susan Hatten (pictured), chief marketing officer and Holmes Murphy Foundation leader.
The giving program was a result of a pandemic pivot. Before COVID-19, Holmes Murphy foundation leaders engaged in extensive travel across the country to approve grant applications by non-profits. But when COVID-19 hit, the process became untenable and time-consuming.
"We found that we weren't effectively capturing the spirit of our employees in that process. In 2020, we pivoted to the Community Footprints program, which allowed each of the offices to have some autonomy to decide where their charity dollars were being allocated," Hatten explained.
Read more: Why one insurance company gives a 'FIG' about giving back
On top of the monetary donation, Holmes Murphy also kicked off a volunteer campaign to celebrate its 90th anniversary. Under the Give90.Fully. campaign, employees were encouraged to volunteer for 90 minutes within a 90-day timeframe. More than 600 employees activated volunteer hours and collective gave nearly 3,800 hours to over 150 charitable organizations in the 90-day period.
"You might think volunteering 90 minutes sounds easy, but you can imagine how busy people's lives can get. We tried to make it easy and bring some of the volunteer opportunities into our office locations so that it was easy for someone to step away from their desk and volunteer for 90 minutes. We were thrilled that we got close to two-thirds of our employee base to participate," shared Hatten.
The volunteer time-off program not only allows Holmes Murphy employees to give their time during working hours, but also encourages team-building opportunities. "Many non-profits allow you to bring a certain number of employees in for a volunteer activity, and we encourage our team leaders to look for those opportunities," she added. "Volunteering has always been at the heart of what Holmes Murphy prides itself. It's about celebrating our communities and making them better and brighter."
For Hatten, seeing her Holmes Murphy colleagues rolling up their sleeves to volunteer is impactful on its own. But the marketing exec has also personally had heart-warming moments through the foundation.
"One experience in particular really touched me," she told Insurance Business - the non-profit organization Vision to Learn, which provides reading glasses for children in low-income and at-risk communities.
"I had the opportunity to be there when the Vision to Learn mobile, which was effectively an optometry office on wheels, visited an elementary school. You can imagine how impactful it is to witness a child see the colors of leaves for the first time. To be there the moment you change a child's life is very gratifying and humbling," Hatten shared.
Read more: Holmes Murphy exec named to Iowa Insurance Hall of Fame
The Holmes Murphy Foundation was created four years ago to provide more structure around the organization's charitable initiatives, centred around direct giving, employee gift matching, and volunteer time-off. The foundation's initiatives are focused on non-profits aligned with four key pillars: safety, health, and well-being; youth opportunities; arts and culture; and diversity, equity, and inclusion.
"While we have always leaned toward organizations that would fall within those categories, we hadn't necessarily been as prescriptive and intentional about supporting them. After we had time to refine our foundation in 2020, we decided to give greater emphasis on those areas," Hatten said.
"What we've found in this year of creating intentional touch points around our 90th anniversary is that our employees want to get involved," Hatten said. "They want to have that opportunity to give back. As leaders, we must make it as easy as possible for employees to get plugged into our communities by creating intentional structure and encouraging them to give back their time and talents."
For Holmes Murphy's 91st year in business, Hatten said they want to encourage its clients to partake in the foundation's giving. "If we could bring ten of our top clients together for a volunteer opportunity in any of our communities, then we've created a ten-fold impact," said Hatten.
"Holmes Murphy has a little over 1,100 employees and still growing, which means more dollars and more volunteer time to contribute to our communities. We're excited about exploring that in 2023 and beyond."