Army veteran Travis Mills becomes owner of CBU Benefits | Insurance Business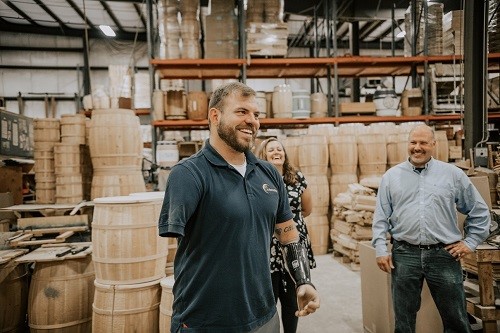 On April 10, 2012, United States Army staff sergeant Travis Mills of the 82nd Airborne was critically injured when he stepped on an IED (improvised explosive device) while on patrol during his third tour of duty in Afghanistan. He lost portions of both arms and both legs and is one of only five quadruple amputees from the wars in Iraq and Afghanistan to survive his injuries.
True to his motto, "Never give up, never quit," Mills has turned that life-changing moment in Afghanistan into something positive. In September 2013, he founded the Travis Mills Foundation - a non-profit organization to help combat-injured veterans. The recalibrated warrior is also a motivational speaker, actor, author, and earlier this year he got involved with the insurance industry.
In October, Mills became one of three owners of CBU Benefits, a Maine-based company that works with insurance brokers and agencies to provide supplemental health options. With Mills on board, CBU Benefits aims to connect with millions of hardworking families that are unaware of the benefits of supplemental insurance to ensure they have financial protection from life's unexpected events.
"I'm living proof that things can happen that we just don't see coming. Nobody expects to step on a bomb," said Mills. "But supplemental insurance can protect you against life's unexpected events. I only put my name on something that I think is beneficial and worthwhile. With the state of healthcare nowadays, I truly believe supplemental insurance is something people need to know about, understand and look into deeply. For the price of skipping one Subway sandwich and one Starbucks coffee a week, you can get this coverage to protect against the unexpected."
Supplemental insurance helps pay for out-of-pocket expenses that regular health insurance does not cover. Out-of-pocket expenses might arise from the death of a family member, disability resulting in loss of one or more pay-checks, accidents resulting in recurring medical visits, cancer diagnosis and lengthy treatment, and diagnosis of heart attack, stroke and so on. The coverage also protects Americans against the monumental deductibles that are now very common in health insurance plans.
"We're in a sweet spot for supplemental benefits in the US right now," commented Brian Heath, managing partner at CBU Benefits. "The advent of the Affordable Care Act and the dominance of high-deductible health insurance plans are leaving people open to significant financial exposures. One terrible car accident, illness or a crisis along the lines of what Travis went through, and most people are looking at high amounts of out-of-pocket expenses because of the insurance plans they carry.
"At CBU Benefits, we consider it our job to provide education and to enlighten people about how supplemental insurance can take away some of that financial burden. We brought Travis on board to help us get that message across. Something Travis has that Ray [Vallee Jr., partner of CBU Benefits] and I don't have is that he has experienced a huge and unexpected life event. Having that perspective enables him to connect with people on a different level."
As a member of the United States Army, Mills was covered by the US Government and was treated by healthcare providers at the Walter Reed Army Medical Center, near Washington D.C. He said that relying upon a high-deductible health plan and having to pay thousands of dollars in deductible for surgery would be extremely challenging, as "most Americans don't just have $8,000 to dig out of their pockets."
The Federal Reserve Board's 'Report on the Economic Well-Being of US Households in 2017,' found that 40% of adults would be unable to pay an out-of-pocket unexpected expense of $400 without selling something or borrowing money. This is a 10% improvement from 2013 but is still a huge figure and gives a good idea of how close to the edge many Americans live.
GoFundMe reports that one in three funding campaigns in the US are set up to help people with medical issues and debt they can't escape from.
Heath commented: "Financial planning is a huge piece of why supplemental insurance is important. Not being able to pay your health insurance deductible is a financial matter. Moving your pay check because of a disabling accident or illness is a financial matter. Having your credit score impacted because you can't pay your medical debts is a financial matter. Supplemental insurance can be looked at as financial protection in part of a solid financial plan that families need to have."
As the sweet spot for supplemental insurance continues to grow, there are opportunities for insurance brokers to build new markets around supplemental benefits. Success is all about conveying the information in an impactful way, according to Mills. For the past few months, Mills has been travelling the country and talking with businesses about why they should consider supplemental insurance in their benefit plans.
He told Insurance Business: "What I've found is that people tend to switch off when you get too technical and the information starts going over their heads. The reason I wanted to partner with CBU Benefits was because I was blown away with how Brian and Ray were able to explain the product. They made me feel like I was smart enough to understand it and that I wanted to help others see the value of the product. I don't use my experience to provoke fear in people. I use it to help people understand that life can be crazy and unexpected events can happen in an instant."