Insurance for properties in high-risk wildfires zones has 'dried up' | Insurance Business America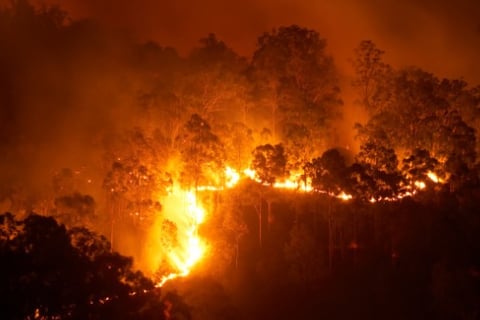 While the 2019 wildfire season in California did not cause the same level of damage as previous years, it has underscored the vulnerability of communities in the state to this growing risk and led some experts to sound the alarm over an insurance crisis looming over homeowners and insurers – not unlike a cloud of smoke and ash.
A major element increasing the risk of losses in California is the development of residential and commercial properties, not just at the wildland-urban interface (a zone of transition between unoccupied land and human development), but oftentimes inside the very borders of the wildlands.
"The level of development and the level of growth in these areas is significant in California and throughout the western states," said Arindam Samanta, director of product management and innovation at Verisk, adding that the analytics company considers a variety of risk factors, including the distribution of wildlands, topography, road networks and wind patterns, in addition to where properties are being built. "When we look at all of these factors in association with where properties are being developed, you'll see that in California alone about two million or more locations of properties are at high risk because of a confluence of these factors and the locations of properties throughout the state. And if you look at all the western states combined, we see more than 4.5 million properties that could be at high risk."
Read more: Are we entering a hard market due to increasing cost of natural disasters?
The issue of wildfires is clearly not one to scoff at and, in turn, the insurance industry has become more aware of this threat as insurers adjust their underwriting processes to account for it.
"There has been a greater recognition of the high level of exposure that exists throughout California and other states in the west where wildfire risk is the reality of the climate of those states," explained Samanta. "As insurers have recognized this problem, they have also reached out to us and we have been working on how data and analytics can help with defining the underwriting process or refining the rating process and the concentration management process. I think that's been the main change that's been happening over the last several years and this is something that we also see as more and more crucial."
Nonetheless, while knowledge is power, the reality of losses from all natural catastrophes, and not just wildfires, experienced in recent years has made the property insurance market a challenging one. Losses from around the country and around the world have led insurers to look for increases in the California book of business to make up for losses felt elsewhere, in spite of a calmer wildfire season in the state, according to Rich Gobler, corporate senior vice president and managing director at Burns & Wilcox.
As a result, added Ian Hanson, associate vice president at Burns & Wilcox, "A lot of the insurance out there has dried up, so what they're willing to put up is limited in scope and they're not going to be as aggressive in higher risk areas."
Just take a look at wineries in California, which relied on Lloyd's of London and specifically the London Cargo Market for its inventory Stock Throughput policies. Yet after a tough year in 2017 that saw Lloyd's suffer a $2.6 billion loss, the historic market initiated a strategic review, which included the axing of unprofitable lines. For vintners and growers in California, this resulted in Lloyd's taking a hard stance against insuring wine stock halfway through 2019, leaving the US domestic market under great pressure to provide the much-needed coverage.
With Lloyd's taking a step back from California, that's put pressure on other markets as well.
"Lloyd's is typically the CAT writer, so they specialize in it whereas the domestic markets pick and choose – some want to be on CATS and some don't," explained Gobler. "So, it's definitely affecting the market with rate increases and lack of capacity."
Another issue in California is that significant wildfires are now taking place regularly, with 12 of the 20 largest wildfires occurring since 2007. The fact that many wildfires are manmade also sets the risk apart from hurricanes or wind-related events, since they are not exclusively occurring within a single season.
As insurers limit what they're willing to write in these high-risk areas, Gobler has a few tips for agents navigating the market.
"Be educated on the marketplace," he recommended. "You don't have to necessarily use us to bind every account, but use a knowledgeable wholesaler. We do a lot of education with our agents and we're not always the best solution, but we really know the market. So, use your wholesaler to help you navigate this market and we can tell you, 'You can't do this and maybe you should go to the FAIR Plan for this one' – that's what we're here for."