Drone danger has authorities worried | Insurance Business America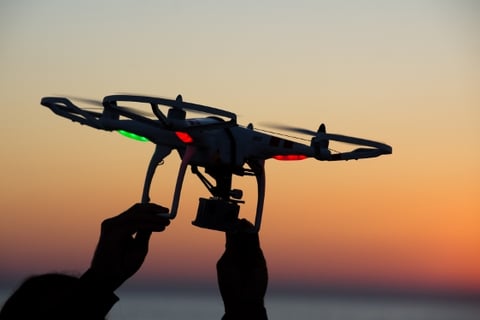 The successful use of small drones as weapons by terrorists in Middle Eastern war zones is raising concerns among US security agencies that homegrown extremists will utilize them for domestic attacks.
As millions of light-weight drones flood the consumer market and the federal government struggles with monitoring the devices, counter-terror agencies now see a possibility that they could be used in the US to carry explosives or as surveillance platforms, according to officials at a security conference in Washington on Wednesday.
"They are doing all sorts of innovative and experimental things," John Mulligan, deputy director of the US National Counterterrorism Center, said. "We've seen them using them in surveillance. We've seen them using them in weapons delivery. We can rest assured that they will continue to fine tune their capabilities in this regard."
Terror groups outside the US, including the Islamic State or ISIS, have in just over a year gone from tentative experiments to more successful and deadly uses of drones. An Associated Press reporter earlier this year visited an ISIS warehouse for drones in Mosul, Iraq, the scene of intense fighting between the group and government troops. Videos on YouTube and other sites show ISIS fighters using drones to drop bombs on opponents.
Want the latest insurance industry news first? Sign up for our completely free newsletter service now.
"Small UAS with a small payload, that can be absolutely deadly," said Mark Lilly, a civilian employee of the Air Force who is an expert in security threats, referring to drones by the acronym for unmanned aerial systems. Small amounts of explosive compounds could be attached to small commercial drones that have been sold in this country, Lilly said.
Exploding Drones
"Anyone who has ever seen or worked with C-4 knows it doesn't take much against a high value target, be it a civil 747 or 757 full of passengers or even on the ramp flying into the intake of an engine and exploding it," he said.
For years, the threat was viewed as more theoretical, but the ease of obtaining highly capable small drones combined with the way terror groups in the Middle East have used them have made the concerns real, said William Hewitt, chief of the UAS Threat Integration Cell at the US Department of Homeland Security.
"Now it is a tangible reality," Hewitt said.
The officials were speaking at a conference sponsored by the Air Line Pilots Association, a union representing about 55,000 crew members in North America.
SZ DJI Technology Co., the world's largest manufacturer of small consumer drones, builds its devices with automated software that prevents flights in security-sensitive zones, such as around Washington, company spokesman Adam Lisberg said in an email.
"DJI makes our products entirely for peaceful purposes, and we deplore any attempts to do otherwise," Lisberg said.
DHS, the Federal Aviation Administration and other US agencies are testing systems that can track drones and disable them if they come too close to sensitive sites or airports. The technology ranges from specialized radars and radio-frequency monitoring to more traditional tools, including shooting rubber bullets at the devices, said Doug Booth, the director of Lockheed Martin Corp.'s efforts to create such tools.
He cautioned that multiple sensors may be needed to adequately detect them because it's possible for some unmanned aircraft to fly automatically, which means they aren't communicating with an operator by radar. Counter-drone measures, such as jamming radio signals, may also run counter to US law, he said.
The government needs to improve cooperation and focus on the issue, said Stephen Alterman, president of the Cargo Airline Association trade group.
"Something is going to slip through the cracks unless we get a hold of this thing," Alterman said.
Copyright Bloomberg 2017
Related stories:
Businesses go Gaga for drones
Loveland Innovations inks agreement with drone manufacturer