The most stolen sporty vehicles of the 2010s: Report | Insurance Business America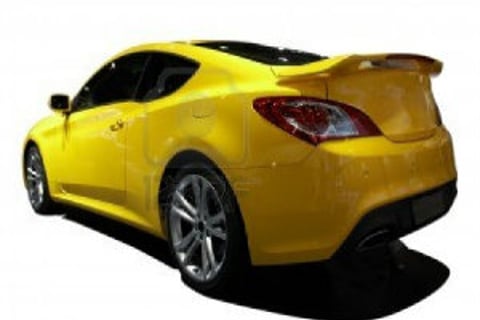 Policyholders who drive mid-sized sporty vehicles, including Camaros, Mustangs and Challengers, may be in need of more intensive insurance, no matter how carefully they drive. At least, those are the findings from a new report by the National Insurance Crime Bureau.
From 2009 to 2012, the NICB recorded nearly 4,000 sporty vehicle thefts, with mid-sized vehicles accounting for 87% of the stolen cars.
Within that class, the Chevrolet Camaro had the most theft reports, at 1,509. The Ford Mustang (980 thefts) took second place, with the Dodge Challenger (782 thefts) rounding out the top three. The Porsche Panamera (103 thefts) and the Audi A5/S5 (101 thefts) also ranked high during the three-year period.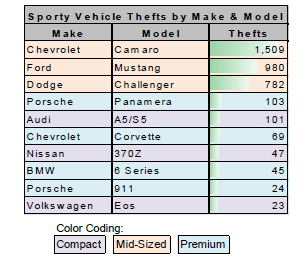 Sporty vehicles of all classes were especially enticing to thieves in California, where 764 incidents took place. Florida, Texas, Georgia and Michigan also reported over 100 thefts of sporty vehicles during the same time frame.
Most importantly to drivers and their carriers, 14% of stolen vehicles remained unrecovered in in 2013.
Frank Scafidi, a spokesperson for the NICB, believes these statistics hold important messages for producers.
"Knowing that these newer muscle cars are attractive theft targets might help agents and brokers make a more informed decision within their respective business environments," Scafidi said.
Specifically, a comprehensive auto policy is needed to address the cost of unrecovered stolen vehicles, which isn't covered by a simple collision or liability policy. Comprehensive coverage may require an additional deductible, but those typically run for less than $500.
Usage-based insurance (UBI) may also be a good option for owners of popularly stolen sporty vehicles, as such policies involve installing a telematics device in the car. These devices carry a satellite tracking device, which aids in vehicle recovery.
The NICB recommends owners of at-risk cars install a "kill" switch, smart key and other immobilizing devices to prevent thieves from starting the car. GPS devices can also help locate stolen vehicles.
Graphs and charts provided by the NICB.
You may also enjoy: "The holidays with the most vehicle thefts"
"Motorcycle thefts: The make and models of the most stolen bikes"
"Top 10 red flags of workers comp fraud"