A booming business | Insurance Business America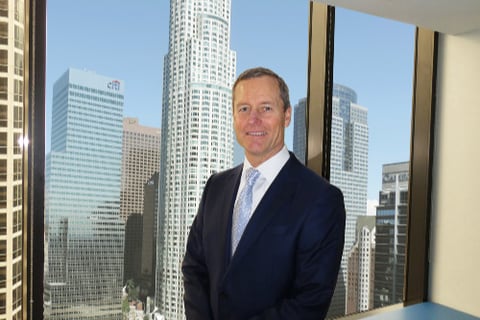 As an insurance veteran who has been outspoken about talent recruitment and advocates for the development of younger generations, it's no surprise that Worldwide Facilities' CEO Davis Moore himself started out as an intern working for an insurance company.
At that time, when Moore was just getting his feet wet in insurance, he was working on the east coast of the United States for a carrier, but soon after the internship ended, he got the opportunity to add global insurance experience to his resume.
"I moved to London to work in the Lloyd's London marketplace as a Lloyd's broker, and when I returned to the U.S., the insurance market was firming and it was a great time to start at Worldwide Facilities as a wholesale broker," says Moore.
Over the coming years, Moore climbed the ranks at the national wholesale insurance broker, managing general agent, and program underwriter. He became the president and later added the CEO title to his letterhead. As Moore led the company throughout the 2000s, Worldwide Facilities added high quality producers and leaders that became a strong foundation to build upon. He can also point to other key moments that helped shape the organization into one of the largest wholesalers in the country.
"In 2005, we made a decision to expand the ownership of Worldwide internally at a time when very few wholesalers believed in that business model," Moore explains. "At that time, we were a $200 million premium business. Since then, we've gone broader with new equity holders and deeper with existing equity holders."
In 2015, a growth plan was formed and then put into action when Lovell Minnick Partners was brought in as a private equity partner to help grow and diversify the Worldwide Facilities business. This move and many others that Moore and the leadership team took in recent years have certainly paid off.
"We executed on our plan and have grown to a $1.8 billion premium business on our way to the two billions," says Moore. "In the third quarter of 2019, we partnered with Genstar Capital, which is a very well-respected and knowledgeable private equity partner in the insurance distribution space. Along the way, we invested in producers who did not have books before coming to Worldwide, who are now very successful and well-respected in our industry."
Underscoring all of these factors has been best-in-class leadership and management teams. In fact, Moore's most meaningful and standout moments in his career include participating with these teams in creating and continuing to grow Worldwide Facilities, he tells Insurance Business.
All about culture
In 2018, the national wholesaler experienced a lot of changes. The firm went from $845 million in gross written premiums with 320 employees to a $1.5 billion GWP business and more than 700 employees. Throughout this growth, the company has maintained its core culture, which acts as a draw for business owners and new talent who are looking for partners or career opportunities.
"We believe the collaborative and inclusive culture we've created is an attractive attribute when considering Worldwide as a future partner," says Moore, adding that Worldwide Facilities also has multiple growth levers, which help to differentiate it from the competition. "We're not reliant upon one single strategy, such as M&A or organic growth. We can pursue M&A, recruiting, developing our own next generation and existing producer groups through our professional development initiatives – all in an effort to execute on our growth strategy."
The list of companies that Worldwide Facilities has acquired include Benchmark Management Group and Risk Management Advisory Group in 2019, and Draco Insurance Solutions, McClelland and Hine/McClelland & Hine Trucking Underwriters, RIC Insurance General Agency, The Sullivan Group, and Tennant Risk Services – all in 2018. When looking for acquisition opportunities, culture is again front and center.
"If there isn't a match within culture, it's not an acquisition opportunity that we pursue," says Moore, though when it comes to creating value for stakeholders, organic growth is just as important. "We've averaged double-digit organic growth for the past several years. When we pursue acquisition opportunities, we evaluate how the combined businesses can help each other improve our businesses, i.e. how one and one can equal greater than two. This approach only works if the business we're acquiring understands the benefits of organic growth. We also believe that acquisitions need to be good for all of our constituents, including our employees, customers, markets, and of course, our equity holders."
Not just survive, but thrive
While the past two years have seen Worldwide Facilities rapidly expand, they've also marked the beginning of a changing and firming insurance marketplace. With rates hardening and capacity shrinking, there's more demand for wholesalers and specialty distributors. In this environment, Moore believes specialization trumps generalization.
"With our highly specialized teams, product offerings, and relationships with markets, we believe we're well-positioned to provide value to our retail trading partners," says Moore. "Specialization is a big part of our business and we believe specialization is absolutely necessary to not only survive, but thrive in current times. Our producers are asked to specialize in specific lines, whether it's casualty, property, financial lines, or programs."
In fact, the wholesaler takes it even one step further, encouraging producers to specialize in industry verticals within those specific lines. What this does, explains Moore, is encourage collaboration, cross-selling, and bringing the best possible resources to customers.
A critical part of the 'thrive' mentality is developing new talent to continue the important work of the industry. Moore says the Wholesale & Specialty Insurance Association (WSIA), where he's currently on the board of directors, has played an important role in driving career awareness and educating the next generation about insurance.
Meanwhile at Worldwide Facilities, there's a robust professional development program in place that focuses on accelerating the growth of an up-and-coming generation. Components of the program range from on-the-job training to mentor-mentee interaction and sales training. As a result, a number of people that came through the program have become producing brokers with their own books of business at Worldwide Facilities.
To ensure that the wholesaler remains at the top of its game for new and current talent, Moore and the leadership team plan to continue expanding and diversifying the business to stay relevant with customers for years to come.
"This year marks the 50th anniversary of Worldwide Facilities, and we enter this new chapter with a strong commitment to our growth initiatives and continued dedication to our customer relationships, market affiliations and development of our employees," says Moore. "Over the last 50 years, we have built a great foundation in an industry that has a bright future. I remain absolutely confident that Worldwide Facilities' best years are in front of us."