Allianz: Cyber the most vital inclusion in your 2018 BI policy | Insurance Business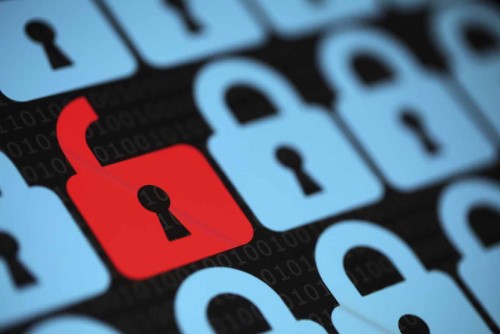 If your business interruption (BI) insurance policy doesn't include cyber non-damage cover, 2018 is the year to seriously reconsider. For the sixth year in a row, BI took the top spot in Allianz' Risk Barometer 2018 report, with respondents citing the advent of new loss triggers and the heightened impact of cyber incidents as the year's biggest threats. If there's one vital inclusion of your BI insurance, it's cyber.
For the first time in the history of the Risk Barometer, cyber incidents were the most feared BI trigger by businesses worldwide. "Cyber non-damage business interruption (BI) will be key in 2018 as businesses become increasingly interconnected," said Brian Kirwan, Allianz Global Corporate and Specialty (AGCS) UK CEO.

Source: Allianz Global Corporate & Specialty
67% of respondents in the survey cited business interruption as the main cause of financial loss after a cyber event. "This represents a significant shift in the perception of BI risk from respondents over the past 12 months, reflecting the fact cyber incidents have escalated in scale," says Kirwan. "Events in 2017, such as the WannaCry and Petya ransomware attacks, have brought significant disruption and financial losses to a large number of businesses and services."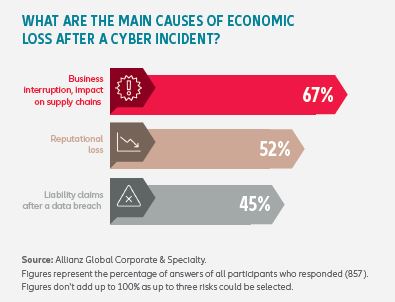 Three devastating 2017 examples of BI economic loss from cyber events
In February, Amazon's cloud storage service suffered an outage that lasted for four hours, causing extensive disruption to its internet and website services. The total bill incurred by S&P companies reliant on those services totalled US$150m, according to analytics and modelling firm Cyence. If a cloud service provider were to suffer an outage lasting over 12 hours, Cyence predicts that losses could reach US$850m in North America alone and up to US$700m in Europe.
The WannaCry ransomware attack in May led to severe business interruption and could result in US$8bn in total losses, estimates Cyence.
In June, the Petya ransomware attack resulted in production disruption of a vaccine, leading to a drug shortage and a bill of US$300m – and that's just one example of losses triggered by this cyber event.
Related stories:
https://www.corporateriskandinsurance.com/news/cyber/cyber-insurance-is-your-provider-really-providing/87501
https://www.corporateriskandinsurance.com/news/cyber/cyber-risk-governance-groups-if-you-havent-got-one-you-need-one/86877