Airmic, AIG and AXA XL on driving change for all insurance and risk stakeholders | Insurance Business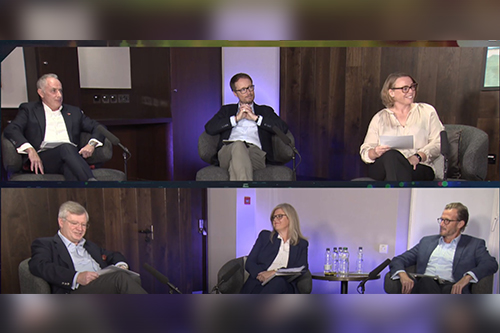 The 'live on the main stage' talks at the recent Airmic Fest showed attendees a once familiar sight – a room full of experienced and passionate professionals with the opportunity to discuss their areas of expertise face to face, albeit socially distanced. The keynote discussion on 'Working together – the risk financing entrepreneurs' brought together industry leaders from a range of institutions to highlight how these organizations are changing how they're working with clients and all their stakeholders.
Airmic CEO John Ludlow (pictured bottom, left) highlighted that COVID-19 has been a huge trigger for change within the industry, and the tech revolution has been a great enabler, from which there is no going back. The focus now needs to be on creating the new normal for working relationships, he said, to solve the seemingly enormous problems facing the industry.
"We've heard how the tech industry uses a process called co-creation to achieve multi-stakeholder change and transformation for companies, employees, customers, and the wider business ecosystem and the world around us," he said. "Well, historically, these have been managed as distinct and largely disconnected entities. Companies might practice great customer service, they might have really effective employee engagement programs, they might choose their business partners with great care and you might carry out initiatives to positively impact society or the environment.
"But in a digitally connected world, which must also be, thankfully, human-centric, it's both possible and necessary to deliver client-focused solutions for the whole business that must benefit everybody involved in their development. But this can only be done with an aligned and yet diverse team drawn from several businesses, put simply, working together in a time of accelerated change."
Among those discussing how they have seen the relationship between companies and their stakeholders changing were Charlie Kitson (pictured bottom, right), head of client engagement, international at AIG, and Sean McGovern (pictured top, centre), CEO, UK & Lloyd's market at AXA XL. Kitson noted the changes to these relationships have been seismic in 2020. Access to people has become easier than ever due to the technology available, he said, but it has emerged that risk or insurance managers now tend to be under more pressure. Many are facing more unwanted attention from C-suite executives and some of this is COVID related and some of it is related to the state of the market.
"[This is about] having a better understanding of one another, a better understanding of each other's needs and what those goals and objectives and concerns are, and how we can work with them. So, I do feel that the conversation is a lot healthier than ever before," he said. "…And we now see that clients are actually coming to us asking us for advice around how they can manage risk, as opposed to us coming to them as to how can price insurance… I think there is a real shift in the mindset of the buyer and also a shift in the relationships we're having across the whole marketplace."
To better enhance these changing relationships, Kitson noted that AIG has developed a risk management academy which allows attendees to better understand how the world of risk is evolving and how they can work with their brokers and their markets to make sure they can cope with these changes. This initiative has had great interest, not only from delegates joining but also from speakers who include CEOs discussing what they expect from their risk managers today. and professionals from business schools outlining how they believe the world of insurance can be better aligned with the world of risk.
Ludlow emphasised how the old ways of conducting market research and then developing a product must make way for the new normal of working with the customer to develop these solutions. The real difference, he said, is facing risk engineers which must operate with a different mindset now. Examining how risk engineers are responding to this evolution, McGovern noted that the current environment is limiting everybody's ability to visit a site and that COVID-19 is accelerating the need for businesses to engage with their clients in a virtual setting.
AXA XL which has developed Cube, the world's first risk innovation incubator, has taken this offering virtually. It's not quite as efficient as it would be with a scrum of people focused on a problem in the same room, McGovern said, as it's difficult to create that same sense of urgency in a virtual setting, but it has still been very successful and enables a great deal of progress.
"I actually see the current environment accelerating the demand," McGovern said, "but also the ability and willingness of the industry to harness new ways of working to deliver that service in a very different way. So, we won't go back to clipboards; there will always be a place for site visits, particularly when you're dealing with very complex sites, but we must do better at delivering a more efficient service."