Airmic on the future of the risk management profession | Insurance Business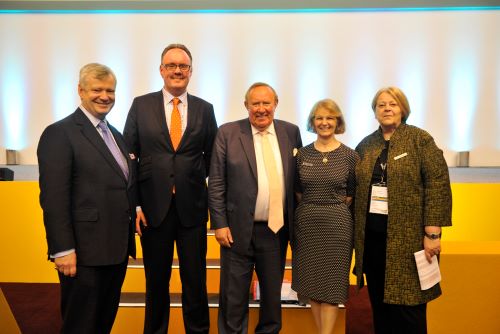 Risk management association Airmic has released a five-part analysis of its 2019 member survey, which demands action from risk managers, senior management and the insurance market to rewire their organisations.
Airmic's 2019 member survey revealed risk management is moving from the back office to center stage, creating opportunities for risk and insurance professionals to reposition themselves as valued strategic business partners. It paints a picture of an increasingly ambitious profession in which Airmic members are keen to upskill, gain exposure to their leadership and attain new knowledge relevant for the changing business landscape.
Now, the five-part series, Risk Management: Vision 2020, stresses that the interconnected nature of today's risks make greater collaboration – both internally and externally – an imperative. Launched by Airmic in collaboration with Control Risks, Willis Towers Watson, AIG, QBE and KPMG, the summary of the five reports is as follows:
THREAT MONITORING – addressing risk, realigning opportunity and taking reward. This report argues that a good threat intelligence program will not only help manage external threats but generate new opportunities by identifying areas for strategic innovation. "Our aim was to gain a better understanding of how organizations view and monitor the world today. Most businesses are waking up to the fact that threat monitoring is vital in the current environment, and it's encouraging to see businesses investing in relevant technologies. This is an area of strategic opportunity for risk and security professionals," Control Risks senior partner Mark Whyte said.
GEOPOLITICS – understanding the external threats to an organization. The report suggests geopolitical tensions will become harder to manage over the next three years. It also helps risk managers begin to break down the risks, understand their interconnectivity, and put into action the most effective response. "With geopolitical uncertainty dominating news headlines, now is the time for risk managers to take the lead. Our research makes clear that they will need to work across, as well as up and down, their organization. A multidisciplinary, integrated approach, is a critical success factor," Willis Towers Watson corporate risk and broking GB head Alastair Swift noted.
GOVERNANCE – the value of boardroom engagement. This report highlights the importance of strong governance, along with a thorough understanding of your D&O exposure. It lays bare some of the common myths about D&O policies. "The risks facing directors and officers have evolved and these changing priorities should be reflected in the risk management approach and insurance procured. Some areas reshaping the risk landscape are heightened regulatory scrutiny, GDPR, social media and the #MeToo movement," AIG UK financial lines head Geraud Verhille said.
TURNING DATA INTO INFORMATION – improving accuracy in risk assessment. This report points to what it calls a clear skills gap that must be addressed by risk managers when collecting and analyzing data. It emphasizes that the current approach is largely sporadic, rarely joined-up and few standards are being developed. "We are on the cusp of real change; data will be key to this transformation but so too will the experts with the skills to harness it. This report makes clear that collaborative relationships and gaining the right skills will be key," QBE UK executive director Cécile Fresneau commented.
EMERGING RISKS – transforming insurance for tomorrow's risks. This report paints a stark picture about the challenges faced by insurers and policyholders in a world dominated by intangible assets. It warns that both risk professionals and insurers must focus on protecting such assets or risk a decline in relevance. "This is a call to action for the insurance market and risk managers. The nature of risks is changing, and to remain useful and relevant insurance has to adapt. We need a change in mindset to encourage much greater collaboration between risk managers, brokers and insurers," KMPG UK partner Paul Merrey added.