AXA on the interconnectivity of emerging risks | Insurance Business America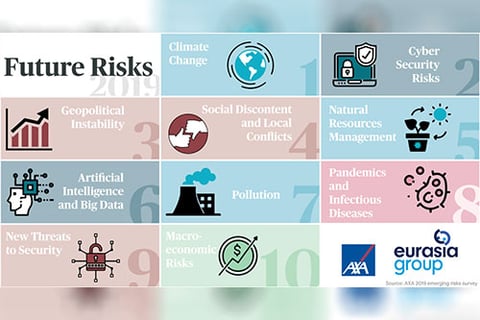 In this increasingly interconnected world, the top risks businesses, and society in general, face are also interconnected. To address these risks, a comprehensive and multifaceted approach is needed, according to an expert.
In the recent 'Future Risks Report' by AXA and Eurasia Group, the top 10 risks identified by over 1,700 risk specialists from 58 countries were: 1) climate change; 2) cybersecurity risks; 3) geopolitical instability; 4) social discontent and local conflicts; 5) natural resources management; 6) artificial intelligence and big data; 7) pollution; 8) pandemics and infectious diseases; 9) new threats to security; and 10) macroeconomic risks.
According to Estelle Hascoët, head of emerging risks at AXA, one notable trend highlighted by the report is the interconnectivity of the emerging risks, which is why the researcher undertook a multifaceted approach to their analysis.
"The key is to analyze risks in their broader context, drawing insight from an inter-disciplinary and multi-stakeholder approach," she said. "For instance, several medical and health risks are directly connected to environmental, technological and political developments. Exposure to harmful substances intersects with environmental degradation and pollution. Take for example the risk of pandemics – this is amplified by an increasingly fragmented political landscape and by economic constraints. Furthermore, growing competition between technology ecosystems could also hinder medical advances."
Hascoët said that 67% of respondents have identified climate change as the top emerging global risk.
"Given this is the fourth year in a row that climate change has reached the top spot, we expect this trend to continue, especially as society becomes more aware of the implications associated with environmental risks," she said. "Furthermore, our respondents question public authorities' ability to deliver impactful solutions, implying the perceived threat from this concern will not go away any time soon."
Meanwhile, cybersecurity risks ranked as the second-most important emerging issue – and the trend is expected to continue due to the increasing disruptive potential of new technologies. One key finding of the report shows that technology is highly interconnected with the geopolitical landscape, giving it the potential to transform existing economic and social structures. AXA predicts this trend is set to increase, Hascoët said.
However, Hascoët cautioned that risk managers should not disregard the importance of risks that appear to be declining or are lower down the list, as the survey captures a perception that is highly dependent on current events.
"This year, our report identified a relative decline in the perception of risks related to medical advances and innovations, but this shouldn't be interpreted as a change in absolute importance, especially since health risks tend to be 'under the radar' of surveyed experts even though their potential impact could be major at the global scale," she said.
Pitfalls in addressing risks
Hascoët noted that sometimes there is a disconnect between the way a risk is perceived by experts, public awareness and preparedness of the authorities. She said that in order to manage emerging risks, there also needs to be a high level of awareness and preparedness in both the private and public sector.
"Interestingly, our survey has shown that 83% of respondents are not satisfied with the way their governments or local authorities are preparing for these risks, although it must not be left to governments alone – private actors and society must all play their part in preparing for the challenges of tomorrow," she said.
The most common pitfall, she said, is perceiving each risk as an isolated issue.
"Increasingly, we are seeing more of these risks interconnect with one another; therefore adopting a siloed approach does not work anymore," she noted. "What we are advocating for in this report is a more multi-disciplinary and multi-stakeholder approach to managing risk. The fact is they are all intertwined and thus impossible to treat in isolation."
Hascoët added that the report highlights a growing concern about the consequences of human actions, such as unsustainable growth damaging the environment, or new technologies threatening privacy, as well as the rise of populist politics threatening democracy.
"In short, part of what has allowed us to live a better life in the past has turned into challenges for the future," she said. "This situation entails a profound change in the way risks are approached. It obviously requires new expertise, but above all collective action by public authorities, companies, and citizens."
Importance of historical data and looking forward
According to Hascoët, AXA is well-positioned within the risk assessment landscape due to its many years of experience and the accompanying historical data. However, the company realizes that risk management is an evolving business and it is continuously developing a more forward-looking approach to risk.
"For example, over the past two years, our life, savings & health risk team at AXA has been working with academic researchers to produce an advanced pandemic risk model to assess the impact of such a disaster. This model is fully adaptable and takes into account climate change, given the interconnectivity of risks," she said.
"We are also big believers in helping our clients take a more proactive approach to risk management, to anticipate and even prevent emerging risks. AXA XL, the property & casualty and specialty risk division of AXA, recently partnered with Accenture to offer global cyber-security expertise to underwriters, brokers and clients to strengthen their cyber capabilities to combat and recover from cyberattacks. In line with our 'payer to partner' strategy, we now offer our clients globally additional bespoke services that will help them understand and mitigate complex and rapidly evolving cyber threats."