CRO says risk management is a contact sport | Insurance Business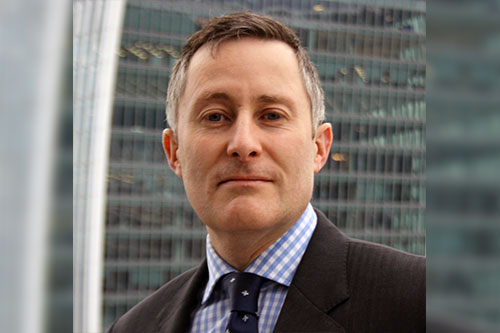 Come September 30, Tim Chadwick (pictured) will assume the chief risk officer post at PIB Group. Here the industry veteran, who started out as an underwriter, tells Corporate Risk and Insurance how crucial the CRO role is and what led him to tread a risk management career path.
"On a personal level, I've always had a risk-orientated mindset and considered the risks I wanted to take, 'steer clear of', or reduce and this gave me a natural leaning towards the insurance sector," he recalled. "My first job was as a commercial underwriter with Legal & General and after university I entered a management development programme with Royal Insurance (now RSA) and did a number of insurance and marketing management roles before taking on my first pure risk management role."
Chadwick cited four key factors for his career choice. One is the need for companies to 'risk manage' their business amid organisational complexity and an increasingly uncertain social, economic, and regulatory environment. He believes those who are able to do so more effectively get more beneficial outcomes for clients and perform better overall.
The incoming PIB Group chief risk officer also pointed to breadth and diversity, saying: "Getting to see and understand an organisation top to bottom and side to side is very interesting. This together with the diversity of knowledge and disciplines needed to consider, advise, and oversee risk, means an ever-present challenge and no two days are the same."
In addition, he sees risk management as a lever for strategic, operational, and cultural change in that it can have a big impact on both what and how the organisation trades. Chadwick also highlighted the role played by risk management in decision-making.
"A significant amount of what risk management does is to consider those things that aren't black and white, and based on information, experience, and judgment, help a company make robust and defendable decisions in a balanced and unbiased way," he noted.
A whirlwind of change
When asked about industry developments, the newly appointed CRO said he finds increasing globalisation, consolidation, regulation, periods of financial crisis, and technology as the most notable in what he called the whirlwind of change seen in the last 25 years.
"The world has become increasingly smaller, always 'on-line', and more interconnected," he told Corporate Risk and Insurance. "When there's a problem, news travels faster and more widely than ever before, which makes containing and managing incidents harder."
In terms of consolidation, Chadwick has been a witness up close.
"I was at Royal Insurance when they merged with SunAlliance, sparking off a series of mega mergers and consolidation within the UK carrier sphere," he shared. "Equally within the broking sector, I was at Aon when they bought Benfield and I was at JLT when they were acquired by Marsh earlier this year.
"Although further consolidation will doubtlessly continue, at the top end it will be fascinating to see the interest and approach that competition regulators take in the future, given what has occurred to date."
This brings him to regulation, which Chadwick is of the view has profoundly changed and will continue to change the industry not only in terms of how insurance is regulated but also when it comes to information or data protection.
As for the other changes, he asserted: "Periods of economic crises have highlighted deficiencies in governance, conduct, and supervision and, for me, emphasised the central role of people for good risk management. 'Risk management by spreadsheet' was ultimately found to be insufficient and highlighted that good risk management needs hearts and minds as well as infrastructure and systems."
Technology, meanwhile, "has changed the way we all operate personally, as businesses, and as an industry," said Chadwick. "The speed, breadth, and impact of technological change has been incredible, creating both massive opportunities and threats, e.g. cyber.
"As the digital universe continues to expand and we have more connected devices, so does the 'attack surface', with capable cyber criminals ready to take advantage. Resilience and agile planning and recovery strategies continue to be critical."
CRO role and priorities
For Chadwick, the role of the chief risk officer in larger and high-growth organisations is crucial for today's world we live and trade in. "Having a C-suite exec that has a clear focus and mandate around ensuring the right governance, systems, controls, and training are in place, while advising on and overseeing the management of risk, is key," he stressed.
When asked about his priorities at PIB Group, he had this to say: "As with any new role, it's about meeting new colleagues and building relationships as it is the people that make things happen. I'll be prioritising understanding the strategy, organisation, and culture of the group, as well as understanding where we are currently from a risk and governance angle.
"I know that PIB Group has actively invested in their risk management and governance right from the start but having a fresh perspective is often valuable. I'll then be focusing on establishing what we need to have in place for the future to align with PIB's strategy and aspirations."
The CRO said the business has big ambitions and that it's going to be key that its risk management and governance keeps pace, is robust, and proportionate as PIB Group grows, and also that it continues to meet the expectations of regulators, colleagues, and investors.
Advice to risk managers
Sharing words of wisdom, Chadwick declared: "My advice would be to not neglect the people element of the role. People are often both a source of risk and a solution to identify and deal with it.
"Risk management is a 'contact sport' so spending time with people across the organisation is crucial, so if you're doing 'desk-top' risk management, you'll need to get out among the business. While technical training is very important, don't neglect continuing to build other skills such as stakeholder management, influencing, communication, and execution."
From a developmental perspective, he recommended becoming a member of the likes of Airmic and the Institute of Risk Management to aid with one's growth and to widen professional networks.