How has COVID-19 impacted terrorism and political risk insurance buying trends? | Insurance Business America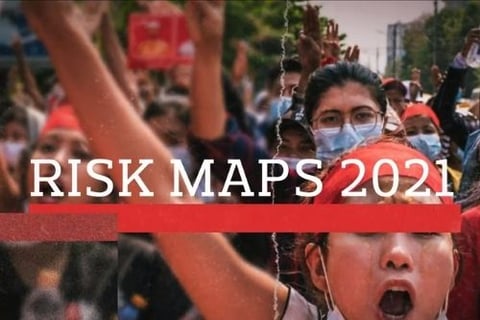 Aon's most recent Risk Maps webinar gathered together a group of geopolitical risk specialists to analyse the key geopolitical challenges of 2021 – a mammoth task that addressed everything from the global economic recovery from COVID-19, to the pandemic as a catalyst of global civil unrest. Chairing the conversation, Vlad Bobko, head of crisis management at Aon, enlisted the insight of the Aon team as well as the report's partners Continuum Economics and Dragonfly to offer an overview of these high-order questions – among them - what impact COVID has had on terrorism insurance buying trends?
Read more: What impact is COVID-19 having on the credit and political risk insurance market?
Julia Dickson, head of international terrorism at Aon Crisis Management, highlighted the multitude of impacts COVID has had worldwide and that the crisis had furthered pre-pandemic instability in every region. There have been protests and civil commotion, even in generally "benign" territories which are considered to be quite safe and stable. Certainly, she said, any territory that, prior to the pandemic, was considered less stable – whether that's due to its government, or its economic instability - had seen those instabilities exacerbated.
"In terms of the purchasing, I believe this has made clients realise that somewhere they consider a stable region can actually quite quickly become and escalate into something out of control," she said. "And certainly, the volatility is questionable. So it has prompted clients to reassess their exposure, and look towards the terrorism and political violence market for those solutions, in order for them to protect their balance sheet and their operations."
Exploring whether she and her team have been seeing an increased demand for political risk cover during the last 18 months, Sarah Taylor, head of political risks and structured credit at Aon, affirmed that this was the case and the global broker and risk manager is seeing new clients coming into the market, especially on the investment side.
Read more: Insurers weigh in on emerging risks in structured credit and political risk market
"The market has always seen a variety of risk globally, and we cover globally," she said. "I think only those countries that are sanctioned in the market perhaps do not have appetite, and that's mainly because of the restrictions around sanctions… And certainly on the renewable side, there's been a huge increase of interest.
"Also, in terms of projects we see an awful lot through our government clients, ECAs, also looking to work more with the private market. Oil and gas is still probably one of the biggest areas… some markets have reduced their exposure on oil and gas, but our feeling is that the market will continue to support those transactions."
On the subject of political upheaval, Francesca Beausang, director, country insights at Continuum Economics, tackled whether COVID-19 could signal the start of a deepening 'Cold War' between China, and the US and Europe.
The main issue, she said, is in the regulatory changes that are being seen at the moment in China which show the country is now willing to play by global rules. There is clearly a very significant change in tone when it comes to the relations between China and the rest of the world. Interestingly, looking at the environmental efforts of China shows the conflicted position it is in.
"Because on the one hand," she said, "they have committed to, you know, 2060 in terms of their green goals - but at the same time, they actually haven't made any real commitments in terms of the phasing out of coal. So that gives you a sense [that] even if the rhetoric on some global issues such as the environment, is in sync with what Europe or the US are aiming for, the delivery is certainly not that simple."
More and more within Xi Jinping's policies, Beausang said, it is becoming clearer that China has a renewed focus on the reduction of inequality going forward, and the political benefits that this will bring for the regime. However, this in turn opens up the path for further incongruities, particularly when it comes to fitting in with the green agenda.
"We might see, a series of contradictions between the reduction of inequality and the transition to a greener world, which is going to expose many contradictions within the Chinese regime and also within its place in the global system," she said. "So, it's going be an interesting time going forward. Whether, we call it a new Cold War or not is, I think, a bit of detail - but certainly, there are some conflicts ahead."