My life in risk management | Insurance Business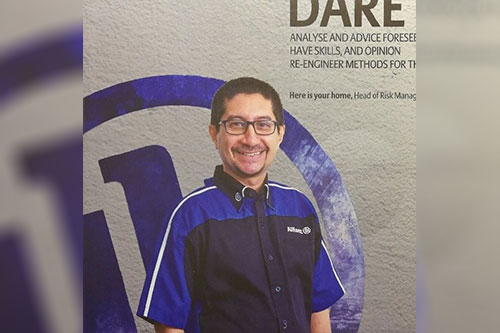 The following is an opinion piece from the Institute of Risk Management in which it asked Syed Zain Syed Noh (pictured), IRMCert, head of the risk management/engineering department at Allianz General Insurance Company (Malaysia), Kuala Lumper, what it's like to work in the risk management profession.
How did you get your job?
I graduated from a local university and hold a science degree, majoring in agriculture science and engineering, with business and finance minor courses. I didn't really pursue any specific career route so, on graduation, I applied for several vacancies and was accepted as a management trainee.
Satisfied that I had secured my future with a steady job, little did I know that the job offered to me was as a loss adjuster, and, with the job, my involvement in the insurance industry started.
It was quite an experience for me, a fresh graduate to jump into a 'tough job'. My job as a loss adjuster was short-lived (about two years) thanks to another offer to work as a risk surveyor with a risk management consultant firm.
The role as a risk surveyor was much more respected and interesting, and I started to develop my passion in risk management. After four years of on the job learning, specifically on environmental, property and engineering risk assessment, I then moved to a greener pasture for a wider opportunity.
Having served an Islamic insurance (takaful) company for about eight years as a risk surveyor and an underwriter, I decided to go out of my comfort zone to become a business development manager of a corporate unit in another takaful company. It was a good experience to discover my strengths/weaknesses and confirmed my passion - that it wasn't in business development or marketing. I had some tough times on the job, although my technical knowledge supported me very well. But, in other words, I wasn't happy.
I took a break from the business development position and was lucky that Allianz was expanding its risk management department (responsible for carrying out property and engineering risk surveys at clients' locations) and I was offered a management position. My CEO at Allianz was also kind enough to grant approval for me to enroll into IRM's International Certificate in Risk Management program after searching for local franchise certification on risk management.
I got a morale boost after completing the certification and was confident of my new-found knowledge in risk management, and was determined to share that knowledge. I started to probe into possible initiatives or projects that I could use my knowledge of within the company.
What's a typical day like?
As the head of the department that is responsible for the nationwide risk surveys conducted by managers and risk engineers, my daily activities are to monitor the risk surveys and consultations, reviewing and strategizing department's capabilities and processes where necessary to enhance efficiency and effectiveness.
Occasionally, I do joint marketing and presentations to clients on risk management awareness, sharing the risk analysis and actions for improvements. I still carry out risk reviews and analysis on queries from underwriters and business development managers.
Apart from that, I sit on the panel of trainers for the company's technical certification program. I was also responsible for leading a risk management project two years ago, to develop a risk assessment system for nationwide use on a property risk survey tool. The system was successfully launched early this year, and I now monitor its usage and review for any possible enhancements.
What do you enjoy most about your job?
The privilege of being able to enter into restricted and 'unauthorised entry' areas, even escorted into them (not the jail though). The experience has been invaluable.
What are the challenges?
"Why fix something when it is not broken?" "I have been doing this for so long. Nothing bad has happened so far."
To get clients to see the importance of reviewing risk exposures and improving risk via recommendations has always been a challenge. Although there has been certain improvement on the level of awareness towards risk management, business owners are still favoring revenue over risk management.
In what way are your IRM qualifications relevant?
It is very relevant in the industry that I am working in. It provides me with a systematic approach to my job and helps to guide my role as a professional risk manager. However, without passion, even having the professional qualification would not make a person an effective risk manager.
What would you say to others thinking about joining IRM as a member?
My previous decisions were all right but joining IRM as a member was my best decision yet.
How has your role developed and what are your career ambitions? Has being linked to the IRM helped?
I have been the head of department for 10 years now, and I could literally see the department's growth in terms of role, potential and importance, which was boosted after the completion of my certification program with IRM. I saw myself promoted to a senior managerial position on improving and developing the department further, all thanks to the knowledge gained through the IRM program.
Top tips:
- Discover your passion in risk management.
- Plan your career. The best plan is to enroll with the IRM as I found the educational program was carefully laid-out.
- Practice what you learn. Learning without practice is meaningless (if it is just to fill your resume).