Pandemics not a top risk for 82% of companies pre-COVID-19 – report | Insurance Business America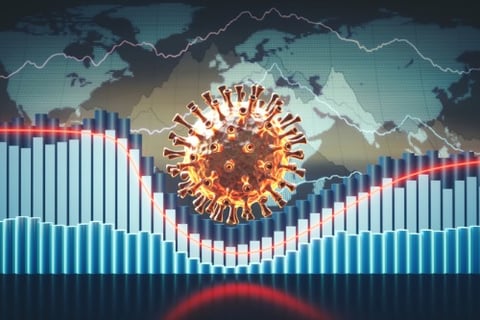 A new survey conducted by Aon has determined that following the COVID-19 pandemic, businesses now have to reprioritise risk and find new risk management approaches to prepare for the next global health crisis – especially since a lot of organisations did not anticipate something like COVID-19 was going to happen.
The report, entitled "Reprioritising Risk and Resilience For a Post-COVID-19 Future," was conducted in the last quarter of 2020. More than 500 respondents from organisations of various sizes in 41 countries participated in the survey.
The survey found that 82% of respondents said that prior to COVID-19, a pandemic – or another similar major health crisis – was not a top 10 risk on their organisation's risk register. Aon noted that during its Global Risk Management Survey in 2019, pandemic risk was ranked 60 out of 69 identified risks.
Because of the low priority of pandemic risks among most organisations, enterprise risk management teams were unable to quickly respond to the threat of the pandemic, Aon said. And when COVID-19 finally hit, their risk infrastructure struggled to cope with the initial response.
When it came to how each region prepared for pandemics, Aon revealed the following survey insights:
52% of respondents in the APAC region said they had a pandemic plan in place; organisations in APAC were also supported by state-run, track-and-trace technology and had built more robust pandemic programmes in response to similar past threats, such as SARS and the swine flu
31% of North American respondents said they had a pandemic plan in place prior to COVID-19
Less than 30% of organisations in EMEA and LATAM had such plans in place
Across all industries and regions, protecting people and assets was a top priority for participants
Aon also noted that fluctuating pandemic infection rates within regions influenced at which stage businesses found themselves in, whether they are in the "react and respond," "recovery," and/or "reshape" stage":
North America has the highest proportion of organisations in the "recovery" phase, at 59%
APAC organisations reported that were in the "reshape" phase in higher numbers (36%) than the benchmark (29% overall); this has been ascribed to their experience in the progression of the pandemic
More than half of companies report that they expect COVID-19 will continue to impact their business a year from now
"There is no question that the COVID-19 pandemic will permanently change the way companies operate," commented Aon CEO of global risk consulting Rory Moloney. "There is a long way to go before we are in the 'post-COVID era', but as we move towards a recovery phase, companies must now ask what risk management and resilience should look like going forward."
"Government response has been a necessary stopgap for a global event of this size, but our survey reveals there is also a clear need for risk transfer solutions to support corporate mitigation efforts," added Aon SVP of global risk consulting Stephene Ashikwe.
Ashikwe prefaced that moving forward, private companies will need to rethink how they access capital alongside risk, and will have to consider ongoing collaboration with the public sector. The senior vice president also said that the insurance industry also needs to innovate in response to companies' changing needs, growing global volatility, and emerging risks.
"Successful insurance solutions in the wake of the pandemic will be more agile, strategic, targeted and scalable," said Ashikwe.