Political unrest slowing economic rebound from COVID-19 – report | Insurance Business America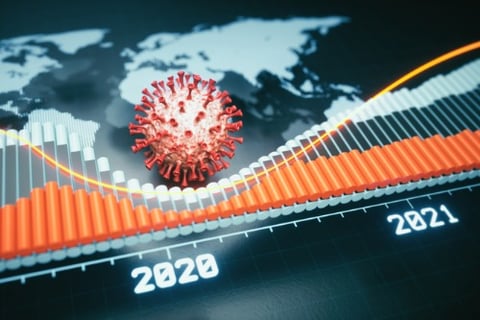 Persistent and growing political unrest is slowing the economic rebound from COVID-19, according to a new study from Aon.
The global pandemic has both suppressed and aggravated terrorism and political violence risks, according to Aon's 2021 Risk Maps report. The scale of government intervention, economic inequality and public unrest about government responses to the pandemic are all expected to drive growing global unrest.
Aon developed the 2021 Risk Maps report, which examines political risk, terrorism and political violence, in partnership with Continuum Economics and Dragonfly. The maps help clients identify and track different sources and degrees of risk, assisting businesses in planning and protecting assets, contracts and loans that could be adversely impacted.
The report found that COVID-19 lockdowns and travel restrictions had a dampening effect on most forms of terrorism and protest last year; the percentage of countries exposed to terrorism and sabotage fell to 45%. Surges in incidents mainly accompanied the easing of COVID-related restrictions.
However, extremists and activists have also used the pandemic as an opportunity to build support and challenge established political orders through protests and violence, Aon said. The US, for example, saw a sharp spike in civil unrest and insurrection risks.
The majority of terrorist activity was in conflict zones like Iraq, Syria, Afghanistan and Mali, with jihadist violence rising by 20% in 2020.
Political risks have also risen during 2020-2021, Aon reported. Seven countries experienced a deterioration in their political risk situation, and none experienced an improvement. The spike in political risk follows a significant spike in inflation in emerging markets (EM), a setback in green recovery initiatives following COVID-19, and the risk of EM divergence from developed markets in terms of per capita income – a result of insufficient vaccine implementation in emerging markets.
The pandemic was a setback for the green recovery. The fiscal burden of dealing with the pandemic meant that by the end of last year, fewer than half the signatories of the Paris Agreement had delivered on its core provisions.
"The COVID-19 pandemic has complicated an already fractured landscape of geopolitical risks, which firms operating globally need to navigate," said Vlad Bobko, head of crisis management for Aon's London Global Broking Centre. "From rising instances of civil unrest to economic dislocation and the long-term potential for inflation in an increasingly connected and volatile world, informed decision-making has never been more important."
"The pandemic is a long-tail risk that has created an artificial near-term global risk picture, particularly of political violence risks," said Henry Wilkinson, chief intelligence officer at Dragonfly. "The extraordinary measures to contain the pandemic have been suppressive but politically aggravating. A tide of increasing risk by 2022 is likely as mass vaccinations and the easing of restrictions converge, with the accumulated economic and political effects of the pandemic. The need for reliable and actionable data, intelligence and analysis to manage fluid and high-impact global risk exposures while planning for recovery is critical."
"COVID-19 has shaken the foundations of the global economy over the course of 2020-2021," said Francesca Beausang, lead economist at Continuum Economics. "While global trade has recovered faster than expected from the initial COVID-19 outbreak, disruptions to the supply chain have taken new forms and their impact has become more systemic. Meanwhile, COVID-19 has triggered an acceleration of commitments to a green recovery, yet funding a fair transition to decarbonization for emerging markets remains the greatest challenge to its implementation. Finally, COVID-19 has forced a rethink of the concept of health as a global public good, with a patent waiver for COVID-19 vaccines changing the foundations of innovation in pharmaceutical research."