Risks soar as Asia's airports boom | Insurance Business America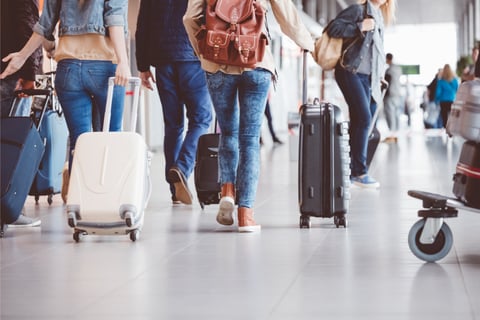 First of two parts
In today's globalised world, airports are some of the busiest areas, and are often travellers' first point of contact with their destination countries. As such, they are intricately tied with a country's reputation as hubs for travel and commerce.
As many Asian economies develop rapidly, much strain is placed on their airports, with administrators struggling to manage risks in the face of rising losses caused by various incidents.
Corporate Risk and Insurance spoke with two leaders from Willis Towers Watson: Kevin Snowdon (pictured left), Asia-Pacific head of risk & analytics, and Jago Harvard-Walls (pictured right), client relationship director, about how risks are evolving at the world's airports, particularly in Asia, and how the insurance and risk management industries are keeping up.
"We saw the huge significance of airports in the region, not just in tourism but also in business development. To the country's citizens, it is also a hugely important brand," said Harvard-Walls. "There was a huge amount of growth in tourism and business in the region, but airports were struggling to keep up with this growth. The need to constantly evolve and create a great passenger experience has put a huge challenge on these airports."
"From an insurance perspective, airports are one of the most complex interplays of different lines of insurance that corporates need to purchase," said Snowdon. "We're looking at aviation and non-aviation, operational, and because of the investment and ongoing growth of airports, construction is almost a constant within these operational environments. This interplay between all those insurances, is in effect, one of our 'sweet spots' as an advisor. We quite often see gaps in those covers, just because of the complexity of what is assumed to be covered and what is not covered."
Snowdon explained that airports are not just local or domestic entities, complicating the risks. Airports are inextricably linked to the international flight and aviation industry, he said, and are often the first point of contact for pandemics coming to a country.
"As we've seen in many recent tragedies, liabilities cannot be seen in just a local context," Snowdon said. "Airports quite regularly underestimate their exposures from a domestic to an international perspective."
Read more: The rapid spread of smart cities exchanges old risks for new ones
Adopting an analytical approach
In order to address these growing risks, both Snowdon and Harvard-Walls recommended a more analytical approach to risk, with the help of technology.
According to Snowdon, the merger of Willis and Towers Watson in 2016 brought together the latter's actuarial science-driven capabilities, and the former's traditional asset and insurance expertise to create a new analytical approach to risk.
"We want to move away from just being seen as an insurance broker and more towards being a risk adviser towards our clients and prospects," he said. We felt that we had the capabilities, not just within our insurance broking proposition, but also in our Towers Watson people proposition, to support our airport clients and make sure they become much more forward-thinking about how to manage this growth in passengers and capacity within their countries."
Snowdon added that Willis Towers Watson will launch its Connected Risk Intelligence platform at RIMS in Boston later this month. This platform, he said, uses the most sophisticated portfolio management insurance technology. It looks at all types of risk – tangible and non-tangible, as well as insurable and non-insurable. It also allows all of those risks to be measured on a common platform.
"Quite frankly, the common language across airports is finance," said Snowdon. "How much is the quantification of risk worth? Because if we can all put risk into dollars and cents, everybody can then understand the relative importance and see how they can wish to prioritize risk management or risk transfer. That type of opportunity needs to be carefully managed from an opportunity side, but also from the risk side. This type of analysis would underpin and provide the risk managers the tools to give confidence to investors that risk has been adequately and properly managed within their investment areas."
Read more: Revealed: top seven security and risk management trends today
Development of new insurance solutions
Harvard-Walls discussed several trends in how insurers and risk managers address the host of risks airports face using innovative approaches. He pointed to two recent events – the drone sightings incident at the UK's Gatwick Airport, and the discovery of World War II-era bombs at Rome's Ciampino airport. These events majorly disrupted operations, affecting around a thousand flights and hundreds of thousands of passengers.
"We make sure that we assess risk and we make all these insurance policies dovetail to provide the most robust and resilient insurance programs to the client," Harvard-Walls said. "What we're seeing is development around parametric solutions which allow the client to be much more focused around the trigger points. The most important thing is that the insurance market should develop quickly to address these needs. The power of data and analytics is essential in order to understand the needs and wants of airports so that you're actually able to target the specific solution that they need. We've become much more bespoke in how we address our clients. Data across, not just airports, but all industries, has become much more important."
Meanwhile, Snowdon elaborated on the role of data in creating new insurance solutions. He pointed to increased focus on non-physical damage business interruption, such as the Gatwick incident and interruption caused by ash fall following the 2010 Iceland volcanic eruption.
"Insurance in its traditional sense expects damage to be a trigger – none of these would've been effectively an insurable event," he said. "Some of the most frequent causes of loss of revenue of airports are actually not covered by insurance products as they stand today. We are constantly studying, providing alternative risk transfer solutions, debating with the insurance market, and trying to pull solutions together based upon analytics. All of this work is a joint effort between clients, risk managers, the insurance industry, other financial institutions, and us as facilitator of those types of products."