Mark Lapalme's life in risk management | Insurance Business America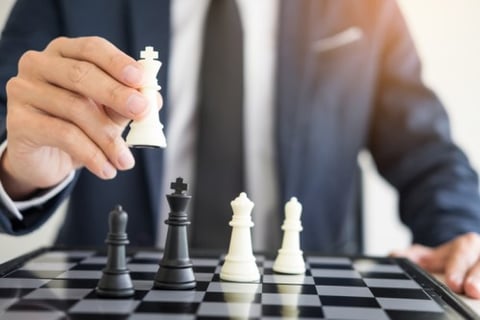 For Mark Lapalme, the director for Risk Advisory & Assurance at Air Canada, risk management has always been a part of who he is. When we asked him what other career path he might have chosen in life, he noted that until his early 20s he had been playing sports at a high level – and might have considered a role in either coaching or sports administration, if he'd truly dedicated himself to athletics.
But he just had an inkling that his academic studies should take priority: "I guess the risk manager in me at the time, maybe I didn't even know it, my instincts decided to push me to school, career as that being more important," he said.
It's hard to question his choice, as today he stands atop his profession – leading one of the most sensitive and important sectors for the largest airline in the second largest country (by area, at least) in the world.
But how did he get here?
In a sense, it might not seem as if he's travelled that far – having started out in a not dissimilar industry. His first job was working as the finance person for a start-up travel company during the dot-com boom. Although not strictly confined to risk management, it was still a big part of what he was doing, "developing strategies to keep the doors open" so he could optimise the options available for growing the business.
After completing his undergraduate degree at university, he went to work for PricewaterhouseCoopers and received his professional accounting designation.
"I won't say I was completely passionate about the long hours of what I was doing or necessarily the accounting type mandate, but what I did really enjoy early on was actually getting to work with many, many large companies," he noted.
Through exposure to some of the best and the brightest across a range of industries, he got firsthand experience of how the big fish were able to swim and – more importantly – avoid sinking: "I was really able to see through the portfolio of clients I had what makes a company successful – and others not so much," he explained.
This perception was sharpened by his experience during the global financial crisis, which "really, really crystallized why risk management was so important."
By then, he had transitioned from the accounting arm to a role as a management consultant – which allowed him multiple perspectives on the frontlines of the unfolding drama.
For some clients, "[w]hen times were good, risk management was an afterthought" even though he and his colleagues would warn them "that you might want to look at this because times aren't always going to be good." On the other hand, "you saw others who are very, very disciplined in risk management, and you really saw the difference during the financial crisis [between] those who were really able to weather the storm, and those who were greatly weakened or even closed their doors."
But above all, working as a management consultant convinced Lapalme that he didn't want to work simply on the sidelines in an advisory capacity. He wanted more skin in the game. "I really wanted to roll my sleeves up and get involved within one organisation," he said.
He'd realised that "I wasn't necessarily being completely fulfilled in the consulting world that I lived in," and had taken the opportunity – along with his wife – to take a year off to travel, regroup, and "get a different perspective on life as well." They were beginning a new stage of life – they were also at that time starting family – and he wanted to really do something he was passionate about.
"Things fell in order when we came back," he said. "The opportunity came up at Air Canada, and it was really what I was looking to do."
Now was not the time to be shy, but to seize the opportunity.
"Basically, I went for it," he said. "That was back in end of 2010, 2011. That's worked out ever since. I've been building out and coordinating risk management across all the vast areas of our business over the last few years to really pull together an enterprise-level program."
And that's what he's done. To keep on top he has to be proactive, even obsessed. He admits that the first thing he does in the morning when he wakes up is check for news and updates on the business – something he also admits his wife isn't always happy about. But it's probably essential to his success guiding the risk management of such a vast company - "it's almost like there's multiple independent businesses within one organisation," he said.
So does he ever wish that he'd stuck to sports instead?
Not really.
"I'm definitely really passionate about what I'm doing especially within this organization, in the industry that we're part of," he said. Although he does sometimes wonder about the sporting road not travelled.
But with his success so far, he could be forgiven for not feeling like he's missed out. On the whole "no regrets," he says. "Just always wondered."