Protecting national treasures with risk management | Insurance Business America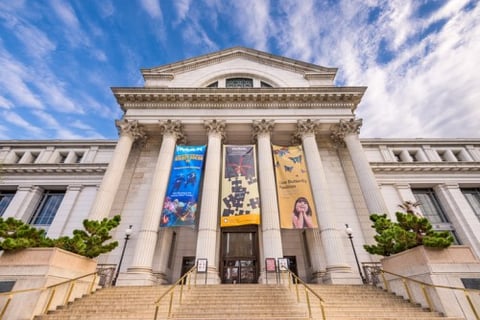 For more than 2,000 years, the Terra-Cotta Warriors stood dutifully at the tomb of China's first emperor, protecting him in his journey into the afterlife.
Until a twentysomething wearing an ugly holiday sweater snapped off one of the cavalrymen's thumbs at a museum in Philadelphia and pocketed it – but not before snapping a selfie, of course.
International calamity ensued, as Chinese officials demanded "severe punishment" for the perpetrator and expressed "strong resentment and condemnation towards this theft and the destruction of our heritage," according to the South China Morning Post.
Somewhere, a risk manager was reeling.
The statue itself, on loan as part of an international touring exhibit, was valued at US$4.5m, but as Katherine Tkac, risk manager at the Smithsonian Institution attests, the artifacts in a museum's collections are really beyond value. "People might think we look at things based on value," she says. "But we really don't, because there's so much historical significance to many of these pieces."
Tkac, who has been with the Smithsonian for nearly two decades, leads a four-person risk management team tasked with managing the 19 museums and five research facilities that make up the world-renowned institution. Under her care are 154m historical, scientific, and cultural treasures like George Washington's battle sword, a moon rock, the desk Thomas Jefferson used to write the Declaration of Independence, and Dorothy's ruby-red slippers from the Wizard of Oz. "I'm still in awe going to these places and thinking about the history and how they came about," she says. "You just don't realise what's behind a lot of these pieces."
What kind of insurance does the Smithsonian use to cover something like Abraham Lincoln's top hat? Tkac recommends that an organisation, before purchasing insurance for objects on their premises, look at the cost of insurance versus improving security, humidity controls, etc. Improving a facility can sometimes be more valuable than purchasing insurance. The longer you think about it, the less crazy the statement seems. After all, an old shabby top hat doesn't exactly hold value in the same way the Tiffany Diamond does.
Each museum has its own unique emergency plan. In the event of a fire, for example, there's a contingency list of which pieces are to be saved first – should it be safe to do so. We won't get into the details, lest any would-be Nicholas Cages circa National Treasure be too inspired…
The Smithsonian's best risk management starts with its human resources. Smithsonian staff are stewards of invaluable treasures, and their dedication and passion for the artifacts pays dividends in risk management. "There's so much care given in how we manage our staff. I've been here a long time, and it's because I love what I do," says Tkac. "I love the institution and I'm passionate about it. There are so many people [here] that are like that, and I really believe it makes a difference."
It's a huge undertaking to ensure future generations will have access and connections to humanity's past, and the staff of the Smithsonian don't take their responsibilities lightly. "We have one woman that works for me, and she has developed such a relationship with the security staff that they call her – if there are trips and falls and things like that – they call her and tell her what's happened," says Tkac. "It's like there are little risk managers all over."
"You have great people who take a lot of stock in protecting our visitors and making sure they have a good experience. Even with the new museum [the National Museum of African American History and Culture], the people who put it together are just in love with their building. It's a passion. I hope that for many years to come they always hire people who have that passion."
In the case of the Terra-Cotta thumb thief, Tkac has a few questions. "I'd be curious if they had a security guard in there," she says. "Did they have cameras? Did they have crowd control? There's only so much you can do, especially when you have a large crowd. Then I feel bad for the security staff because they're trying to look, and they can't see through."
Her solution? "If anything, limit crowd control," she says. "Limit the amount of people that can go in there. We had the Kusama exhibition in here and we worked really hard on that to make sure they limited the number of people in any one space just because of that."
The installations of Yayoi Kusama, who is most often pictured sporting a hot-pink wig, have become Instagram sensations. The 89-year old is best-known for her dazzling "infinity rooms," whereby observers enter one-by-one into a room enveloped by mirrors, revealing to the viewer endless planes of reflection. Despite all the (well-warranted) hype, when Kusama brought the infinite pumpkin version of her installation to the Smithsonian in February 2017, no major incidents occurred, much to the contentment of Tkac's risk management department. "I really believe that was because of the strict control within the galleries and the security staff being placed all around," says Tkac. Only a few guests are allowed into the exhibit at a time.
Kusama's infinite pumpkins protected with strict risk management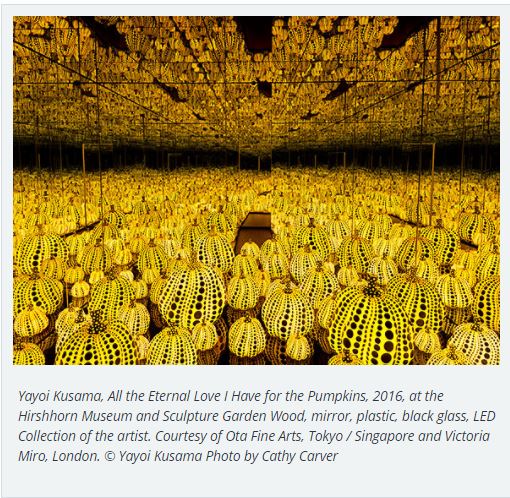 But one pumpkin did sustain very mild damage under the weight of misplaced foot as a guest lost his footing while he was – you guessed it – snapping a selfie.
Related stories:
Got a donkey? Risks of renewable energy transition met with creative solutions
Inside the broker beauty contest