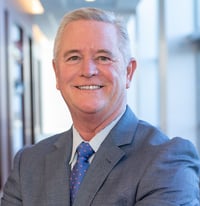 All-star wholesale partner: Risk Placement Services
Pictured: President Joel Cavaness
Since it was founded in 1997 as a scratch operation with just four employees, Risk Placement Services (RPS) has grown to be one of the leading specialty insurance distributors in the nation. "Our promise to our retail brokers is simple," says president Joel Cavaness. "We do whatever it takes to help them come through for their clients."
In 2019, the company saw continued solid financial results due to strong organic growth and the addition of new merger partners. RPS has focused its investments on growing talent and digital and data strategies, as well as developing new products that give clients a competitive edge. Among its technology innovations, RPS has an online quote-bind-issue platform that includes nearly 20 products (and growing) and enables clients to complete the process, from quote to issuance, in less than three minutes.
"Our business doesn't stand still, and neither do we," Cavaness says. "To position us for the future, we have several key initiatives. One of the most important is data strategy, to analyze the vast amounts of data within our systems so we can deliver more exclusive products and programs for our clients [and] enhance and support the strong relationships between our retail clients and their RPS counterparts, ensuring seamless and simple delivery of specialty products. What sets us apart is the wide range of placement services we offer through our varied divisions – open brokerage, binding/MGA, programs and non-standard auto, which is offered through our Pronto Insurance brand."
RPS today employs 3,000 associates. In every community where RPS does business, its employees nurture a corporate culture based on creativity, expertise, collaboration and ethics.
"We are a company of experts with deep specialization in our products and programs," Cavaness says. "More than anything, our company culture sets us apart from others. We have instilled social responsibility and a sense of fun into our corporate culture from the beginning. That's why many current employees chose to begin their careers at RPS and one reason why we stood out as an IBA Top Workplace in 2019. We enjoy what we do and enjoy working together."