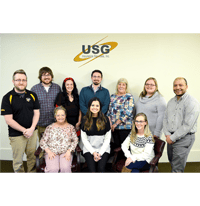 All-star wholesale partner: USG Insurance Services
By using proprietary technology and building meaningful industry relationships, USG Insurance Services provides solutions for hard-to-place insurance needs. The company partners with more than 300 markets to provide an option for nearly any coverage request, with a focus on contractors, habitational, hospitality and manufacturers/distributors. The team also includes brokers with specialized expertise in aviation, environmental, surety, workers' compensation, garage, transportation, professional liability, energy and several other specialties.
"Our focus in 2019 was to seek and understand our partners' feedback on how we're doing and how we could do better," says Jennifer Kessel, USG's national marketing director. "We took that feedback and allowed it to shape the direction of how we move forward – by focusing on what our agency partners need the most from us."
As USG looks to 2020 and beyond, the company has plans to continue to expand operations nationally through new branches, new programs and a heavy focus on providing retail agents with the technology, marketing and sales tools they need to service and grow their agencies and individual books of business.