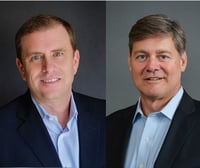 Five-Star Wholesale Partner: AmWINS Group
Pictured: Scott Purviance, CEO and Bob Petrilli, president, underwriting division
A global specialty insurance distributor, AmWINS Group is continuously focused on developing specialty products and services aimed at supporting retail clients and carrier partners. As the largest global MGA/MGU and program administrator platform, AmWINS underwrites over $1.7 billion in premium annually, offering more than 60 niche P&C programs around various specialty product lines and industry classes.
"At AmWINS, we are proud to offer our retail clients not only specialized knowledge and expertise, but also superior tools, services and AmWINS exclusive products, like AmWINS Special Risk Underwriters (SRU). We utilize our numerous practices to develop new programs and products that provide retail brokers with innovative solutions and unparalleled market access," says Scott Purviance, CEO. "As the industry's leading wholesaler, our scope and size enables us to focus considerable resources on areas of particular importance to retail brokers. Beyond our commitment to specialization, we invest heavily in technology and offer extensive resources – including claims advocacy, actuarial services, and modeling capabilities– with the goal of helping our retail clients conduct their business more effectively and profitably."
In 2018, AmWINS launched two new MGAs: AmWINS Specialty Logistics Underwriters (ASLU) and Sentinel Marine Underwriters (SMU); in addition to acquiring Seacoast Brokers and The Flood Insurance Agency (TFIA). "AmWINS is continuously looking for opportunities to acquire and/or build underwriting platforms to provide useful products to our retail clients and profitable business for our carrier partners," says Purviance.