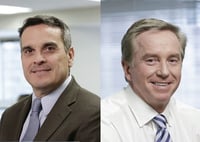 Five-Star Wholesale Partner: Brown & Riding
Pictured: Chris Brown, chairman and Jeff Rodriguez, president and CEO
Founded in 1980, Brown & Riding is built around the core values of teamwork, quality and professionalism. Since its inception, B&R has developed 16 well-established specialty practice areas, including construction, energy, oil & gas, healthcare, technology, workers' compensation and more; in addition, the company has access to more than 350 markets and strives to help retailers find the best options for their insured clients. Brown & Riding is also the first wholesale insurance broker in the US to achieve ISO 9001:2008 certification, a nationally recognized certification requiring a comprehensive quality management system that is externally audited annually and ensures B&R follows procedures and maintains efficiency and accuracy. This makes it easy for retailers to partner and do business with B&R.
"We adapt to the growing needs of clients by becoming increasingly micro- and hyper-specialized in segments of the industry," shares Jeff Rodrigues, president and CEO. Chairman, Chris Brown, continues by saying, "Rather than being organized by territory, we are organized by expertise and bring retail producers the best collective efforts, knowledge, and relationships of the entire firm, not just one individual broker. We operate as an extension of the retail producer's own team, offering expert, trustworthy advice and service for a wide variety of business."
This year, B&R plans to further expand its offerings by building out its specialties and expertise. "We also plan to continue selectively developing our current offices, rather than having a focus on additional geographical growth. Further expanding our footprint would be only strategic, as a response to customer needs," Brown says.