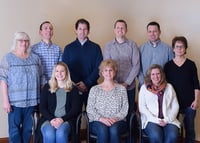 Five-Star Wholesale Partner: Norman-Spencer Agency
Norman-Spencer has made a name for itself within the wholesale market for it people, and the relationships it has developed with business partners and the industries it serves. With a wholesale team comprised of 10 individuals, with the goal to surpass $75 million in written premium this year, Norman-Spencer is constantly developing new carrier relationships and exclusive products to better serve clients.
Over the years, the company has established direct relationships with a number of both admitted and non-admitted insurance companies, while company's wholesale team provides access to exclusive programs, such as a contractors auto program and contractors equipment program. With a concentration to place business within the construction industries, Norman-Spencer has in-house experts that focus on niche classes of business, including concrete pumpers and concrete ready-mix, both of which the company has served for over 25 years. In addition to construction, the team has producers that focus on transportation business, including specialty haulers, towing and collateral recovery.