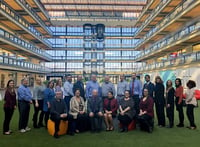 Five-Star Wholesale Partner: Preferred Property Program
Celebrating 100 years in the business, Preferred Property Program (PPP), in conjunction with American Union Risk Associates, are both subsidiaries of JGS Insurance, located in Holmdel, New Jersey. Representing a number of companies, including AXA XL, Chubb, AmTrust Financial and CNA Insurance, PPP offers umbrella policies ranging from $1 million to $100 million in limits and also offers additional programs such as workers' comp, environmental impairment, equipment breakdown coverage and package policies for real estate owners.
"We are extremely honored and thankful to be nominated by our retail brokers and to be recognized as a Five-Star MGA for the second consecutive year," says Ken Hager, president of PPP.
"We continue to strive to improve our online processes to save our brokers time and improve the timely output of policies and endorsements," adds executive vice president, Carmen Suarez. "We have a top quality team who work diligently to make sure our brokers' needs are met in a timely and efficient manner."
Company

Information
Preferred Property Program