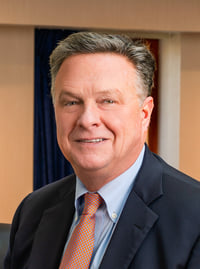 Gregory E. Murphy, Selective Insurance Group
Chairman and CEO
Selective Insurance Group
In his nearly 40 years in the insurance industry – all of which he's spent at Selective Insurance Group – Gregory Murphy has helped lead the company's strategic growth to become a super-regional property & casualty insurance provider across the US.
Murphy was first exposed to the industry while working at an accounting firm right out of college. "I was intrigued by the opportunity to learn about so many different finance areas within the insurance industry … as well as the fact that there were new things always in development," he says.
Promoted to chairman and CEO in 2013, Murphy has grown Selective into the 41st largest property & casualty group in the US, according to A.M. Best, an accomplishment he credits to the entire team. "While I have the honor and privilege of setting Selective's strategic direction, our success is because of our employees and agency partners," he says. "What they accomplish every day is the reason why we've experienced significant growth and success."
An active philanthropist, Murphy supports such charities as Project Self Sufficiency and the Foundation for Newton Medical Center. He also helped create the Selective Insurance Group Foundation to support nonprofit organizations across the country.
"The insurance industry is an unbelievable career for anyone who is intellectually curious and always willing to learn," Murphy says.
"It's a great 'people' business, whether it's helping people put their lives back together after a loss ... or helping to make communities safer. The impact we have as an industry is so much bigger than we realize – it makes insurance the most rewarding career choice."