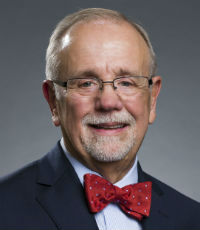 Tom Quaka, Senior vice president, FCCI Insurance Group
Most valuable lesson: "Relationships can last a lifetime; events and circumstance do not."

Tom Quaka currently serves as senior vice president of FCCI Insurance Group. Before FCCI's acquisition, Quaka was president and CEO of Mississippi Insurance Managers and Brierfi eld Insurance Company. Prior to that, he spent two years as vice president of Brickell Insurance Agency, and before that, he was with the New Hampshire Insurance Group, an AIG subsidiary, for 18 years.

Quaka has served the insurance industry in numerous capacities over the last 40 years. He has been a member of the ISO Advisory Committee, the National Council of Compensation Insurance Rating and Classifi cation Committee, and the Mississippi Legislative Task Force for regulatory reform. He has also been part of various legislative advisory committees, focusing on uninsured motorist, medical malpractice and windstorm legislation. He is also past president of the Mississippi Society of Chartered Property and Casualty Underwriters and of the Workers' Compensation Assigned Risk Pool.

Quaka has also served on the Technical Conference and Executive Committees of the Independent Insurance Agents Association of Mississippi. The association recognized his dedication and achievements in 1991, awarding him with its highest honor, the prestigious J.H. Johnson Memorial Award for distinguished service to the insurance industry.

Quaka is recognized nationally in insurance education, having been a member of the national faculty of the Certified Insurance Counselors Institute for 20 years, presenting technical insurance seminars across the country. He continues to teach property & casualty courses throughout the state for the Independent Insurance Agents of Mississippi and is currently teaching the Agents E&O Program on behalf of Swiss Re. He has been recognized with a Distinguished Service Award from the Insurance and Risk Management School.
Company

Information
FCCI Insurance Group

6300 University Parkway Sarasota, FL 34240