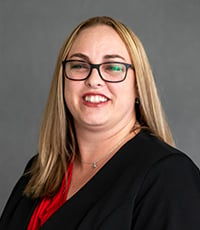 Adrienne Woodhull, Risk Placement Services
Area president, RPS Signature Programs
RISK PLACEMENT SERVICES
As an area president for Risk Placement Services (RPS), Adrienne Woodhull oversees professional liability programs for A-rated clients, including lawyers, insurance agents and brokers, and title agents, a business that accounts for more than $40 million in GWP.
Woodhull describes 2020 as "a year of change in many different ways across the globe. The insurance industry is feeling that change when looking at pricing, coverages and distribution. One change that I see in this industry would be the way you can quote, bind and issue a policy."
RPS is leading that transformation – earlier this year, Woodhull was instrumental in helping launch AttorneyShield, a lawyers' professional liability product for small law firms that enables clients to quote, bind and issue online in under five minutes. It's since become one of the most active lines in the RPS online platform.
Outside of RPS, Woodhull is a member of the PLUS Eastern chapter and the Target Markets Program Administrators Association, where she serves on various committees. She is also active within her local community and her college alumni network, helping to recruit new students and promote college athletics.