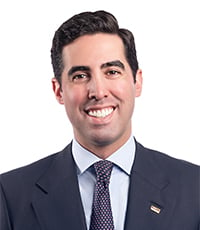 Danny Kaufman, H.W. Kaufman Group/Burns & Wilcox
Executive vice president/COO
H.W. KAUFMAN GROUP/BURNS & WILCOX
As executive vice president of the H.W. Kaufman Group, Danny Kaufman guides global sales, marketing and technology efforts. He also serves as COO for H.W. Kaufman Group subsidiary Burns & Wilcox, overseeing its US operations.
"With the impact from wildfires, an active storm season and COVID-19, a hard market will continue through at least 2021," Kaufman predicts. "Amid a volatile year, Burns & Wilcox continues to make investments in technology and talent. This approach, which harnesses the strength of our global team, supports this current environment."
When COVID-19 hit, Kaufman turned 60 brick-and-mortar sites into virtual operations in one weekend to support the operation's 2,000 employees. He's also overseen the expansion of the Burns & Wilcox team by 150 people so far this year. "Our people fuel our business," he says. Kaufman's approach has been successful: According to internal surveys, 83% of US employees think H.W. Kaufman Group is a great place to work, while 97% of Burns & Wilcox employees applaud the company's response to COVID-19.
Kaufman has been named to DBusinessmagazine's 30 in Their Thirties list and sits on the boards of Forgotten Harvest, the Detroit Historical Society and the Detroit Symphony Orchestra.