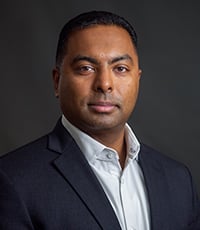 Vishaal Hariprasad, Resilience Insurance
Co-founder and CEO
RESILIENCE INSURANCE
Vishaal Hariprasad took a unique path into the insurance industry. "I am willing to bet that I'm the only person in the industry who graduated from the Air Force Academy, saw combat in a cyber warfare unit, was awarded the Order of the Combat Spur by the 3rd Armored Cavalry and the Bronze Star, and holds two patents in cybersecurity and a broking license," he says.
Since 2012, Hariprasad has served as a cyber operations officer in the US Air Force Reserve. In 2016, he co-founded Resilience and has since garnered nearly $40 million in funding. Recently, he collaborated with leading security, data science and insurance professionals to create a platform that automates and enhances cyber insurance solutions. "Technology has traditionally been an enabling function – increasing efficiencies of existing operating models," Hariprasad says.
"Technology is now fundamentally changing the industry, challenging norms and transforming conventions. Simultaneously, we're seeing an influx of people from a variety of backgrounds. Cyber insurance specifically is looking to experts in security, data science and engineering who haven't previously been part of the conversation."
Outside the office, Hariprasad remains engaged with his native Indo-Caribbean community in the Bronx and South Florida.