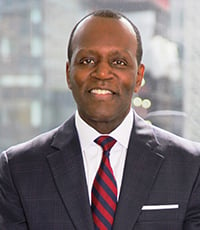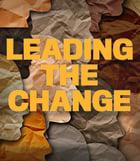 George Woods, GC Genesis
Senior vice president, global strategic advisory
GC GENESIS
Years in the industry: 30
An innovative leader in his field for three decades, George Woods admits he wasn't too inspired when he first entered the insurance industry. "But as I continued to gain knowledge and experience, I realized that I made a great career choice," he says.
The fact that people of color know very little about the opportunities available in insurance is a problem, Woods says. "They do not see it as a career choice. We need to educate people about the insurance industry as early as junior high school. The industry should strive to recruit from a pool of diverse candidates at all levels of an organization. Companies should make sure that employees clearly understand what experiences and education they need in order to ascend the corporate ladder."
To help build awareness, Woods sits on NAAIA's executive board and chairs its chapter development committee. He has also worked with the leaders of the Latin American Association of Insurance Agencies to help expand its footprint. In addition, he co-leads the Guy Carpenter EMBRACE Ethnic and Cultural Council employee resource group and serves as an advisor to the Water Street Club.
"These groups give me an opportunity to raise awareness of insurance to the younger generation and to create programs that can provide knowledge about the insurance industry," Woods says. "I have seen some small improvements in racial equality compared to when I first entered the industry, but we still have a long way to go. I look forward to the day when all people and genders will be judged by their accomplishments and the content of their character and there will be no glass ceiling."