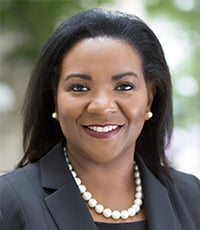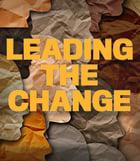 Janelle Edem, Liberty Mutual Insurance
Senior vice president and chief of staff, Global Risk Solutions
LIBERTY MUTUAL INSURANCE
Years in the industry: 15
Mentorship and sponsorship, insurance-specific curriculum at target schools, improving the diversity of teams and leadership, empowering recruitment teams to look beyond traditional talent sourcing strategies, and creating targeted programs to develop and prepare people of color for advancement opportunities: These are just a few of the ideas Janelle Edem has for improving diversity and inclusion within the insurance industry.
"We have to continue the work of creating a more inclusive environment within our industry," she says. "Growing understanding of the challenges we face as an industry that struggles with diversity is important as we engage allies in accelerating change and closing gaps in equity for people of color. We need to build muscle in recognizing biases in our behaviors and practices that perpetuate inequities in career advancement for people of color – and be brave enough to confront them."
At Liberty Mutual, Edem has held leadership roles within various employee resource groups and diversity-focused councils, including serving as an executive sponsor for Liberty Employees of African Descent and Allies. That group partnered with NAAIA to increase Liberty Mutual's engagement with chapters in key insurance hubs around the country and helped launch NAAIA's Boston chapter.
"The case for diversity and inclusion is compelling," Edem says. "The insurance industry is no different from others, where those who commit to diversity and inclusion will very likely outperform on business results. Collaborating with our allies in staying focused on addressing racial inequalities where they exist will make us better, attract new talent to insurance, pay dividends on our business results and have ripple effects to the communities we serve."