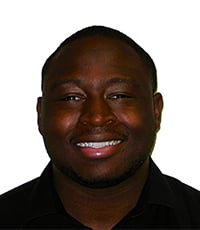 Cameron Alford, Evonik Corporation
Risk and insurance specialist
Evonik Corporation
Age: 25
In his three years at Evonik Corporation, Cameron Alford has overseen and improved internal claims management for the marine cargo program, helped enhance the workers' compensation process, and increased efficiency and compliance with the vendor risk management program. A proponent of continuous improvement, Alford is currently pursuing a master's degree in risk and insurance.
"Thinking ahead to the next 12 months, I expect companies within our industry to hold themselves accountable for standing against racism," Alford says. "We must challenge management to support and listen to their teams and their members. We must also confront our external relationships and how those organizations may contribute to the systemic and systematic nature of racism."
To help drive that change, Alford is a member of RIMS' Diversity & Inclusion Advisory Board, serves as alumni chair and co-founder of GammaSAID, and is a member of the National African American Insurance Association.