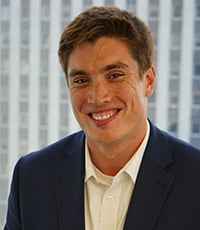 Carl Nagle, Allianz Global Corporate & Specialty
Loss control engineer
Allianz Global Corporate & Specialty
Age: 30
Carl Nagle's insurance career began in 2013 when he joined the associate program at Allianz Global Corporate & Specialty (AGCS) right after college. There, he learned the ropes of insurance and was exposed to large corporate clients, providing him the opportunity to get involved in strategy meetings and draft reports on program-specific loss control developments.
In the years since, Nagle has transitioned from fieldwork to proactive consultancy. His four-year, hands-on experience of documenting and evaluating risks at different transit hubs has established him as a key cargo loss control contact at AGCS. Additionally, his expertise on global exposures, new technologies and overseeing high-risk operations is constantly sought out by the company's diverse group of clients.
With a background in engineering, Nagle is looking forward to incorporating more technology into the insurance industry. "There is a wide range of applications and devices that could have an immediate benefit if applied in the right way," he says.