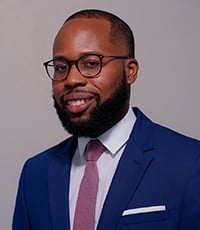 Fela Abioye, The Hartford
Executive team lead
The Hartford
Age: 35
Fela Abioye has spent the last decade in the insurance industry, the majority of it at The Hartford. He started his career as a workers' compensation claims representative in Texas before being promoted to a workers' compensation team leader, overseeing a satellite claims office in Las Vegas and a remote claims team. After six years in claims, he transitioned to commercial middle-market underwriting.
In addition to recently being promoted to executive team lead at The Hartford, Abioye currently serves as vice chair and volunteer chair for the Houston associate board of the Insurance Industry Charitable Foundation and is a board member of the Houston chapter of the National African American Insurance Association. He's also working on securing his CPCU designation.
Last year, Abioye completed a program called Acceler8, which focused on social interaction, emotional intelligence, leveraging one's network and developing an entrepreneur mindset. He says it helped him sharpen his interpersonal skills, enhancing how he communicates and positively impacts those around him.