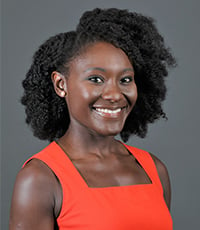 Kudakwashe (Kuda) Chibanda, The Hartford
Director of data science
The Hartford
Age: 34
Kuda Chibanda has dedicated her career to helping companies make data-driven decisions. Over the years, she has worked in consulting roles in commercial and personal lines as an actuary and data scientist. She currently leads a team at The Hartford that brings analytical rigor to low-frequency, high-severity lines of business. Prior to taking on her current role, Chibanda worked as a manager in the advanced analytics actuarial practice at PwC.
Looking ahead to the next year and beyond, Chibanda hopes the industry can become more responsible in eliminating insurance data bias. "We have traditionally relied heavily on demographic information to underwrite, price and reserve risks," she says, "but the advent of Big Data now allows us to substitute that with behavioral data, which is more causal and less likely to be susceptible to bias."
Outside of The Hartford, Chibanda is a board member at the Casualty Actuarial Society and serves on its Joint Committee on Inclusion, Equity and Diversity.