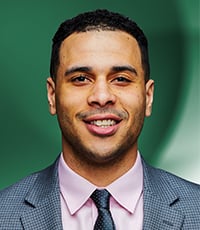 Kyle Pass, Risk Placement Services
Broker
Risk Placement Services
Age: 27
Kyle Pass began his career in 2015 as a summer intern at Risk Placement Services (RPS). After graduating from college, he was hired full-time into RPS' healthcare practice in 2016. Pass also joined another broker's team at that time and subsequently shadowed him for several years, an experience he says was instrumental to his career.
Pass became a broker at the beginning of 2020, specializing in professional liability and medical malpractice risks. "This past year, I've learned to enjoy the journey," he says. "It takes time to gain knowledge, grow a book and see the success. Being able to look back four years and compare that time to where I am today is pretty cool. It's easy to get caught up in your end goal and lose sight of the happiness you can find during the process."
Looking ahead, Pass says he hopes to see more people of color in leadership roles in the industry. "It is on us to step up to the plate and take advantage of the opportunities present in this industry," he says.
Company

Information
Risk Placement Services

2850 Golf Road, Rolling Meadows, IL 60008