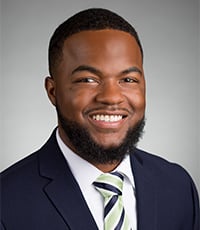 Leon Davis, The Hartford
Assistant director, media and public relations
The Hartford
Age: 28
Since joining The Hartford in 2014 as a public relations intern, Leon Davis has gained increasing responsibility within the company, including working with local TV stations and news outlets across the country to promote community events and The Hartford's Junior Fire Marshal fire safety program.
Based on his ability to effectively manage the company's brand through positive media coverage, Davis was promoted to assistant director of media and public relations in 2019. He works on complex, public-facing insurance issues as part of the crisis communications team and leads media relations for The Hartford's Ability Equipped program.
Davis has a long-standing commitment to community service. He currently serves on the communications committee for the NAAIA chapter in Hartford, Connecticut, and is a member of Alpha Phi Alpha Fraternity. Since 2018, he has been the communications lead for The Hartford's Black Insurance Professionals Network employee resource group. He's also this year's head coach for the NAAIA case competition with students from the University of Connecticut.