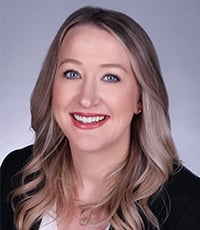 Sarah Griffith, Beecher Carlson Insurance Services
Southeast executive liability practice leader
Beecher Carlson Insurance Services
Age: 34
As Beecher Carlson's Southeast executive liability practice leader, Sarah Griffith works with multinational, publicly traded and privately held companies in the healthcare, technology, real estate, hospitality, retail and manufacturing industries. She provides solutions for D&O liability, employment practices liability, cyber liability, media liability, technology and miscellaneous professional liability, and fiduciary liability, with a strong focus in the cyber, E&O and technology E&O product lines.
In addition to day-to-day servicing, marketing and program design, Griffith also assists with insurance-related contract reviews and provides consultative risk management support. She works closely with senior leadership to develop and update Beecher Carlson's proprietary cyber liability product, CyberSelect, and continues to grow the company's cyber risk offering by developing loss modeling tools.
Griffith is also actively involved with Beecher Carlson's internal Rising Leaders panel, helping to develop and shape initiatives such as a formal mentoring program and improved onboarding and IT procedures.