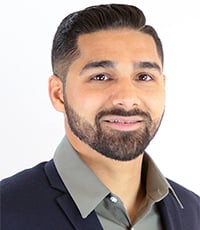 Umair Mala, Aon Risk Insurance Services West
Senior account specialist
Aon Risk Insurance Services West
Age: 31
Umair Mala's goal for his insurance career was to become a senior account specialist; after almost a decade in the industry, he achieved it last year. His new goal: to build on his communication and leadership skills to become an account executive.
In addition to building what he calls his "dream team," Mala strives to grow his book of business by providing extraordinary service, educating his clients and identifying revenue growth opportunities. He is responsible for creating proposals and coverage presentations; processing endorsements, audits, and billings; and assisting in expediting certificates of insurance – all in addition to retaining 100% of his clients year-over-year.
Throughout his career, Mala has discovered a love for mentoring and leading. To ensure new associates have the tools they need to succeed, he implemented a mentorship program and introduced problem-solving techniques for his team, aiming to provide clear solutions to secure better outcomes overall.