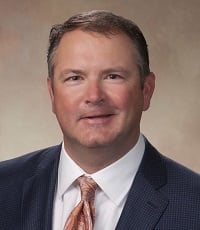 Jason J. Young, Senior VP, Fisher Brown Bottrell Insurance
Jason Young began his insurance career at Dan Bottrell Agency in 1992 and was a stakeholder in the business when Trustmark purchased the agency in 1999. Today, he and his team manage one of the largest books of business at Fisher Brown Bottrell Insurance.
A seasoned producer, Young focuses primarily on contractors bonding and insurance, and professional liability. In 1992, he led a team at Bottrell to begin a program for accountants and lawyers' professional liability, including visits to New York and Boston to establish underwriting ties, which previously did not exist at Bottrell. Over 26 years later, these relationships have grown and expanded.
In addition to professional liability, Young continues to be a trusted bonding and insurance advisor to contractor clients, with experience in handling contract bond placements for programs up to $300 million. He is a member of the National Association of Surety Bond Producers Tiger Trust, has served on various bonding leadership councils and attends countless construction and professional liability conferences on the East and West Coast.
Company

Information
Fisher Brown Bottrell Insurance