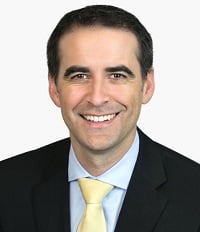 Kevin Loar, Senior VP, Partner, Woodruff Sawyer
Kevin Loar provides brokerage and consulting services to address clients' property and casualty exposures, and has valuable expertise placing and managing international insurance programs. Previous to his current role, Loar worked at Woodruff Sawyer in various account management roles, serving as primary account handler for key technology clients and working with the firm's Assurex Partners to develop a guide of compulsory policies placed internationally.
Loar's strategy has always been keeping his clients and contacts consistently impressed with his service: "Whether it was a client that has moved to another firm and hired us again, or an influencer that has consistently referred business because of the high level of service they know we offer, much of my success this year and in prior years was a result of this. In order to keep leaving a strong impression, I make myself available and accountable," he says.