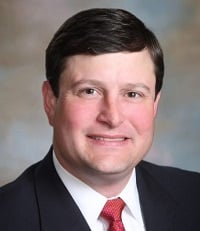 Sam Sackler, Fisher Brown Bottrell Insurance
With over 20 years of experience consulting with companies in the construction, healthcare, manufacturing, real estate development and hospitality industries, Sam Sackler has served as a commercial insurance consultant for Fisher Brown Bottrell Insurance since 2004. Over the years, he has earned his CIC and CRM designations, believing that the industry is best served by those who acquire and maintain a high standard of professionalism by meeting the continuing education requirements of these two programs.
Outside of insurance, Sackler has served on the board and committees for a number of community and professional organizations, including chairperson of the Boy Scouts of America's sporting clay committee, past president of the Hattiesburg Historic Downtown Association, fundraising chairman of the USM Symphony Gala, committee chairman of Area Development Partnership and many more. He is also an alumnus of the 2012 Leadership Mississippi class. Sackler has also been asked to teach the Mississippi Development Authority's annual model contractor development program m on topics involving bonds and insurance to emerging contractors throughout South Mississippi.
Company

Information
Fisher Brown Bottrell Insurance