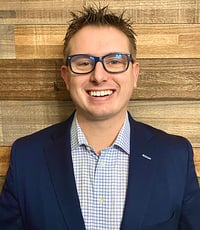 Craig Carpenter, RT Specialty
Vice president, branch manager and broker
RT SPECIALTY
Specialty: Construction
After graduating from the insurance and risk management program at Olivet College, Craig Carpenter entered the insurance industry in 2007 with All Risks, which became part of Ryan Specialty Group in 2020. He soon developed a specialty in residential and commercial construction insurance placements, including annual, project-specific and wrap-up programs.
"I started in this specialty during the economic collapse of 2007 to 2009," he says. "In hindsight, it was a perfect opportunity to learn the coverages and study policies, as there wasn't as much construction activity."
Every day, Carpenter is challenged to place coverage on projects that could range from the construction of a $1 million commercial office to a $500 million residential condo. Each account has unique attributes and requires a substantial amount of technical expertise to recognize the exposures and protect the insured from potential loss.
"Project delays, construction defect laws and verdicts, and rising premium costs are a few of the issues I faced in 2020," Carpenter says. "Relying on my expertise in the construction industry, as well as the strong relationships I have with carrier underwriters, I was able to deliver tailored solutions to my retail agents to meet the unique needs of their insureds."
Company

Information
RT Specialty

Prudential Plaza, 180 N Stetson Avenue | Suite 4500 | Chicago, IL | 60601