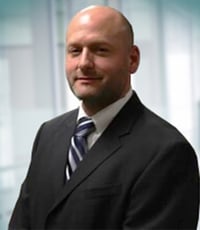 Craig Mount, Guard Pro Insurance, a Venture Pacific Insurance Brand
National program director
GUARD PRO INSURANCE, A VENTURE PACIFIC INSURANCE BRAND
Specialty: Security guard industry
Technology gave Craig Mount an advantage during COVID-19 – in 2020, he achieved a 20% organic growth rate by leveraging a proprietary marketing and online quoting system based on the on-demand insurance platform brokkrr to facilitate "frictionless" customer experiences.
"Integrating his technology platform to solve for quoting, comparing and binding coverage allows clients to ensure they contain their costs, without sacrificing coverage, from the convenience of their homes," a colleague says. "He also has developed a system to contain runaway claims cost by deploying triage at point of the claim."
Mount is considered one of the top three brokers in the security guard space; his technical insight and expertise comes from more than two decades spent specializing in the security industry for Guard Pro. During that time, he has expanded the program into all 50 US states and has added offerings such as benefits, surety, 401(k) and personal lines.