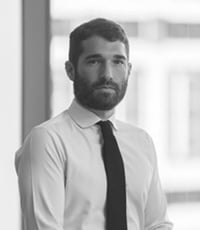 Sebastian Swain, CRC Group
Director
CRC GROUP
Specialty: Cyber
A director with CRC's Professional Executive Services Group, Sebastian Swain is responsible for placing and managing D&O, EPL, fiduciary liability, crime, kidnap and ransom, cyber and data privacy liability, and E&O/professional liability for a wide variety of industry classes.
After earning a bachelor's degree in business administration and a master's in accounting, Swain joined KPMG's insurance and banking risk practice in Chicago in 2012. In 2015, he moved to Los Angeles to join Hiscox, then headed to Beazley two years later as a territory manager. Charged with leading Beazley's private enterprise team in the West, Swain helped to drive revenue growth for the company's cyber product through better broker education, cyber product innovation and the development of an online cyber quoting platform.
Swain joined the CRC team in 2019 and currently leads the cyber practice for the Los Angeles executive professional team, bringing exceptional market access, service, risk analysis and coverage focus to retail insurance partners, empowering them with the confidence to outsource professional placements.